U.S. Imposes Sanctions on Top Military Adviser to Congo's Kabila
By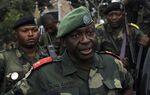 The U.S. imposed sanctions on a senior military adviser of Democratic Republic of Congo President Joseph Kabila, raising pressure on the government for a peaceful transition of power.
The U.S. froze the assets of Francois Olenga, the head of the Military House of the President, for actions that threatened "the peace, security or stability of the DRC," the Treasury Department said in a statement.
Olenga oversaw security operations on behalf of Kabila to quash political dissent and supported the redeployment of senior military offices believed to have "pro-opposition" leanings, according to Treasury. Safari Beach, a resort on the outskirts of Congo's capital Kinshasa which is owned or controlled by Olenga, was also placed on the sanctions list, it said.
"This action follows continued efforts by DRC President Joseph Kabila and the DRC government to obstruct and delay preparations for a credible and inclusive presidential election and DRC's first peaceful, democratic transfer of power in accordance with the Dec. 31 agreement," the Treasury said.
It follows a similar move by the European Union, which this week announced travel bans and assets freezes for the first time against members of Kabila's government, including the interior and communications minister. The steps represent a significant escalation against the government since it failed to hold elections in November.
Kabila, who's been in power since 2001, was due to step down last year. He held on to power under a political agreement that promised votes this year, but implementation of the pact has stalled. Kabila's ruling party and opposition leaders failed to reach an agreement on the appointment of an opposition prime minister to organize the polls, while voter registration in Kasai has been suspended due to insecurity.
The UN's Human Rights Office in Kinshasa said this month that security forces were responsible for as many as 172 extrajudicial killings in April alone.
Before it's here, it's on the Bloomberg Terminal.
LEARN MORE