Top U.K. Pollsters Say Theresa May Likely to Boost Her Majority
By
Bloomberg survey points to clearer consensus than recent polls

Five pollsters think May will win majority of at least 40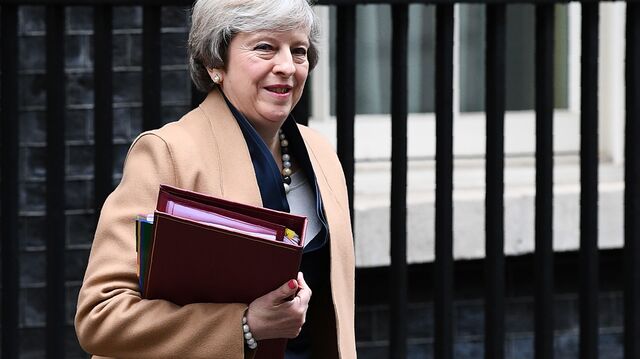 Prime Minister Theresa May is on track to increase her parliamentary majority in next week's U.K. election, according to a Bloomberg survey of leading pollsters that shows there's a clearer consensus about the result than recent polls suggest.

One week before the vote, six of the U.K.'s best known polling companies -- ICM, Ipsos MORI, ComRes, Opinium, Survation and YouGov -- agree that May is far better positioned to win than her main rival, Labour's Jeremy Corbyn. Five of the six see a majority of at least 40 seats in the 650-member House of Commons with one estimated range going as high 200.
May called the snap election in the hope of winning a bigger majority and a mandate for her vision of Brexit. While she started the campaign with a 20-point lead over Labour, the polls have narrowed dramatically, pushing sterling lower. One YouGov survey on Thursday put the Tories just four points ahead of Labour.

Despite the shift, the pollsters in Bloomberg's survey agree that May is still heading for a clear victory. In Britain's first-past-the-post system, a party can win a big majority without a majority of the popular vote as the election is decided in about 100 key seats. May's ratings for leadership and economic competence are ahead of Corbyn's -- gauges that have a better track record of predicting the outcome than vote-share forecasts. Pollsters expect fewer young, poor voters to show up and more older richer ones, helping the Conservatives.
Read more: Can You Believe Unbelievable U.K. Election Polls?: QuickTake Q&A

Estimates of May's likely majority in the House of Commons after the June 8 election clustered in the range of 50-100 seats. That compares with just 17 in the last parliament and would boost her power base as she prepares for Brexit. The lowest estimate was 32, while the most bullish was an estimated range of 50 to 200 seats.
"Things can change at short notice but my expectation is that the Tories will cruise home with a working majority probably in the region of 80 to 100 seats," said Martin Boon from ICM. "I don't think there's a possibility of Labour having any kind of majority."
Follow our TOPLive Election Q&A on the Bloomberg Terminal at 2 p.m. London time
The U.K. polling industry is still struggling to shake off its collective failure to call the 2015 general election and the Brexit referendum last year. Pollsters are correcting their models, but were doing so with an eye to the next election in 2020. May's early election call has caught them on the hop.
YouGov came out with a new projection model this week that indicated May could lose 20 seats -- enough to strip away her majority in Parliament. The result pushed the pound lower and provoked anger in Tory campaign headquarters, with two of May's most senior election strategists taking the rare step of publicly attacking the company. It also surprised rival pollsters.
Bloomberg News asked senior pollsters on Wednesday and Thursday who they expect to be prime minister after the election, whether there will be a majority government, how big will that majority be, and whether Labour can still win. Below are the answers:
Ben Page, chief executive of Ipsos MORI
May is set for a healthy majority of at least 50 seats which could become a landslide of as many as 200. "In this type of election, which has switched back to two-party politics, once you start polling in the 40s you can win big." Tony Blair won his landslide in 1997 with 43 percent of the vote. The "numbers behind the polls" -- such as the relative ratings of the leaders and who's best to manage the economy -- all still favor May.
Joe Twyman, head of political polling at YouGov
May should get a majority of 40 to 60 seats. "A lot could still happen. The Tories have not had a good campaign. Labour have had a better one, but started from a low base. Turnout will be crucial given how age is now such an important social cleavage in Britain."
Adam Drummond, senior research manager at Opinium
May is on course to win a majority of 72, based on the latest data. Even if the Tory lead narrows further, she should still have a majority of 50 to 70, partly because the party's so far ahead of Labour among older voters "who always go out to vote."
Andrew Hawkins, chairman and founder of ComRes
The narrowing of the poll gap between May and Corbyn was the difference between an "enormous" and a "sizeable" majority. "We are still expecting the majority to be north of 70 and quite possibly north of 100. The sheen has come off Theresa May's honeymoon but it hasn't actually shifted voting behavior yet."
Damian Lyons Lowe, chief executive of Survation
Survation data point to a majority of 32 for May. "Jeremy Corbyn's prime ministerial credibility has increased significantly but he is still way behind Theresa May."
— With assistance by Robert Hutton
Before it's here, it's on the Bloomberg Terminal.
LEARN MORE