Trump Embraces Vietnam as Strategic Ally After Trade Setback
By and
President reaffirms predecessor's security support for country

One-time foe a budding U.S. partner as China expands influence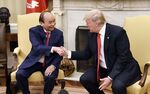 President Donald Trump sought to advance ties with Vietnam beyond a trade spat as he welcomed Prime Minister Nguyen Xuan Phuc to the White House, reaffirming the country's importance as a strategic partner in Southeast Asia.
In a joint statement, the leaders agreed to continue to strengthen defense and trade ties and reiterated the importance of freedom of navigation in the South China Sea, the focus of territorial disputes with China. Vietnamese officials announced large deals during the trip, which was the first by a Southeast Asian leader to the Trump White House.
The meeting was a sign that Trump would continue U.S. efforts to strengthen relations with the Communist-led country. Disappointed by Trump's decision to pull the U.S. out of the 12-nation Trans-Pacific Partnership trade pact that included Vietnam, Phuc had planned to highlight all the U.S. jobs his nation supports through American imports.
"Prime Minister Phuc has done a spectacular job in Vietnam, led so many different categories in trade and other things," Trump told reporters on Wednesday. He later tweeted that "it was an honor to welcome the Prime Minister of Vietnam."
Sitting next to Trump, Phuc said, "the relationship between Vietnam and the United States has undergone significant upheavals in history, but today we have been able to become comprehensive partners."
Keep Balance
A week after the U.S.'s transfer of a high-endurance cutter to the Vietnamese Coast Guard, deals were announced including VietJet Aviation JSC's acquisition of $3.6 billion of engines from a venture between General Electric Co. and Safran SA. The meeting also came as military officials from both countries, including Defense Secretary James Mattis, prepare to gather for the annual Shangri-La Dialogue security forum in Singapore starting on Friday.
"The U.S. needs Vietnam to keep the balance in the region," said Rear Admiral Le Ke Lam, a former Vietnam Naval Academy director. "The position of the U.S. in the region is being fiercely challenged by China."
With Trump adopting a far more protectionist stance than former President Barack Obama, who viewed stronger trade ties in the Asia-Pacific region as a strategic opportunity, Vietnam's $32 billion trade surplus with the U.S. puts it in the administration's crosshairs after Trump ordered a study to identify "trade abuse" fueling American deficits.
Trump's trade representative, Robert Lighthizer, held talks Tuesday with members of the Vietnamese delegation, and pressed "the challenges presented by the recent sharp increase in our trade deficit with Vietnam," White House press secretary Sean Spicer said.
'No Cheating'
"As the president has made abundantly clear, trade deficits and unfair trade practices have disproportionately hit American workers," Spicer told reporters on Tuesday. "This administration is strengthening our important relationships with partners like Vietnam by leveling the playing field for American businesses throughout the world."
Phuc had told Bloomberg in an interview Saturday that Vietnam doesn't artificially lower the prices of its goods, including seafood that competes with fisheries in southern U.S. states. "We don't cheat. There's no cheating of any kind of products that we export to the United States," he said.
"The meeting shows that the Trump administration will not only continue the cooperation Vietnam had with Obama, but will also expand it to new areas, including national defense and intelligence," said Le Dang Doanh, an independent economist and former Vietnamese government adviser. "So, Premier Phuc has had a successful and fruitful trip."
— With assistance by John Boudreau, and Luu Van Dat
Before it's here, it's on the Bloomberg Terminal.
LEARN MORE