The Rise and Fall of a Commodities Giant in Asia
Noble Group rode a commodities boom, but has been brought low by debt and bad bets.
By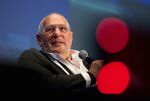 The profit warning landed at 10:37 p.m. Singapore time on a Tuesday in early May. It was the night before a holiday in the city-state where shares of Noble Group Ltd. are traded. The market would be closed the next day, giving investors more than 24 hours to digest the information. On Thursday the stock fell 32 percent, its biggest-ever one-day drop. It's fallen further since.
Based in Hong Kong, Noble was once Asia's largest commodity trader, with a market value of more than $10 billion, greasing the wheels of the global trade in metals, minerals, oil, and agricultural goods. It's currently worth $336 million. "Noble is fighting for its life now," Owen Gallimore, head of credit strategy at Australia & New Zealand Banking Group Ltd., said in a May 23 interview.

The company was founded by Richard Elman, a British high school dropout and onetime teenage scrap metal laborer. It's named for Noble House, James Clavell's novel set at a Hong Kong trading firm. Elman positioned the company to ride the wave of China's unparalleled economic boom beginning in the early 2000s. "They were in a sweet spot," says Nicholas Teo, trading strategist at KGI Securities Singapore Pte.
Noble's traders were able to use borrowed money to finance purchases of commodities ranging from oil to copper and coal to soybeans. The company would store, blend, or process those raw materials before transporting them to customers around the globe. It sometimes profited by exploiting price differences in regional markets. It could also make money by storing commodities and selling futures contracts to deliver them later at a higher price.
For a while, soaring Chinese demand ratcheted up prices for everything, creating what became known as the commodities supercycle. "There was a huge play on China infrastructure, and with that, commodities markets in general ballooned," Teo says. Finding it easy to borrow at low interest rates, Noble was able to rack up billions of dollars in debt and use the money to expand its trading operations.
Now it faces a double whammy: Markets are dubious of Noble's credit—the major rating agencies have downgraded it to junk status—and its trading prowess. In the recent profit warning, the company said it would post an unexpected quarterly loss of about $130 million. It blamed a bet on coal, referring to a "dislocation" between prices for physical coal and the contracts it used to hedge those positions. In other words, the insurance that Noble had taken to protect it from big movements in the price of coal hadn't worked. "The explanation provided was a big mistake," says Jean-Francois Lambert, a consultant and former head of global commodity trade finance at HSBC Holdings Plc. "After this, who does not challenge it? Blaming the market to explain that basic risk exposure suddenly went out of control is nonsensical."

In 2015 the company was the focus of a series of anonymously written reports attacking its accounting methods from a previously unknown entity called Iceberg Research. Noble has attributed these to a former employee and sued to press the point (the lawsuit is ongoing). One report focused on the "fair value" method Noble used to book profits from projects and contracts that could take years to play out. The approach Noble used, which follows legitimate accounting rules, could boost its current income even when operating cash flow was negative. So when the company reported profits, Iceberg argued, it was often burning cash, and it would need fresh capital to repay its debts.
Noble strongly refuted Iceberg's allegations about its use of fair value gains. A review conducted by accounting firm PwC in 2015 said the practice was in line with industry standards. Still, some of Noble's biggest rivals, privately held commodities trading houses such as Vitol Group and Trafigura Group Pte., rarely book profits on forward contracts to avoid inflating the value of employees' shares.
Shortly after Iceberg's initial salvo, Noble reported its first quarterly loss in more than three years. The accounting questions raised by Iceberg, combined with a fizzling commodities boom and worries about the company's debt, made investors skeptical. Although Elman stepped up to buy shares, the company's stock plunged 65 percent in 2015 and an additional 44 percent in 2016. It's down 79 percent this year.
Noble has cut staff and shuttered most of its metals trading desks to lower costs and reduce working capital needs. It sold its European power- and gas-trading contracts and offloaded its agricultural trading unit to China's Cofco International Ltd. It's also been raising money by issuing more shares and bonds, including $750 million of junk bonds in early March. Much of the junk-bond issue was used to pay off debts due in May.
On May 11, Elman, 77, stepped aside as executive chairman. In a letter to shareholders, he said the company can no longer borrow from its banks without securing loans with the physical commodities it trades. His successor, Paul Brough, is leading a "strategic review of the business," says a spokeswoman for Noble.
The company still has some crown jewels it could sell, such as the U.S. oil liquids trading business based in Houston. "They will continue to jettison assets, and you will ultimately see them going back to a shell of what they once were," Teo says. Noble is also seeking investors to help bail it out.
Brough has plenty of experience with distressed companies. His recent jobs include liquidating Lehman Brothers' assets in Asia and running what emerged from the bankruptcy of Chinese timber company Sino-Forest Corp. Steering Noble away from its crisis will be another tough assignment.
The bottom line: Noble Group thrived on cheap and abundant loans. Now its debts are dragging it down.
Before it's here, it's on the Bloomberg Terminal.
LEARN MORE