Social Security Cuts Target Trump Voters
Rural, white areas hit by trade rely most on federal disability benefits.
By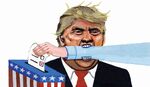 As a candidate, Donald Trump set himself apart from other Republicans by promising to protect entitlement spending. "I'm not going to cut Social Security like every other Republican," Trump said just before entering the presidential race. "I have a big heart."
His recently released budget, however, shows that as president he's had a change of heart: It cuts almost $70 billion from Social Security disability benefits over the next decade. Those cuts will fall on some of his staunchest supporters. Of the 20 counties with the highest share of working-age adults receiving disability benefits, 17 voted for Trump, by an average margin of 56 percentage points.
Trump's cuts put GOP lawmakers who represent these areas in a bind. "I'm concerned," says Republican Representative Morgan Griffith, who represents Virginia's 9th congressional district in the southwestern corner of the state. Still, he says he's open to reform even though his district encompasses the two counties, Dickenson and Buchanan, with the country's highest rates of disability payouts.
White House Budget Director Mick Mulvaney justifies the cuts by calling Social Security Disability Insurance (SSDI) a "welfare program for the long-term disabled," rife with fraud and abuse. Griffith, a member of the ultraconservative House Freedom Caucus, as Mulvaney was before joining the Trump administration, agrees that fraud is a concern—just not in his district. "Fraud and abuse, we have to focus on that, because it adds up to major dollars when you're talking about the whole country," Griffith says. "But the people in Dickenson and Buchanan counties are good, honorable folks. The fraud isn't down there."

Experts say that growth in SSDI is being driven not by fraud but by the aging U.S. workforce. About two-thirds of beneficiaries are over the age of 50. Not only is the number of older Americans growing, but the shift in the official retirement age from 65 to 67 means that people are remaining in the workforce longer, becoming more prone to disabilities, especially in manual-labor jobs, as they age.
"The myth out there that Mulvaney spreads when he says, 'These people need to go back to work,' is that he's thinking of people of color in urban areas—and the exact opposite is true," says John Kregel, a professor at Virginia Commonwealth University who specializes in disability policy. "Here in Virginia, it's overwhelmingly white, rural voters who went for Trump who are the beneficiaries." Griffith's district is 91 percent white.
One reason these areas are so high in both disability payouts and Trump support is that they're generally the ones hit hardest by trade and globalization. As MIT economist David Autor and his co-authors wrote in a 2013 paper, SSDI is the single biggest source of federal transfer payments into regions directly affected by trade with China and Mexico. This helped give rise to "disability belts" in Appalachia, the Deep South, and the Upper Midwest, all regions that strongly supported Trump.
Trade and the decline of the coal industry have both buffeted southwestern Virginia. "My district has really been beleaguered," Griffith says. "Go back 25 or 30 years, and we had five big industries: textiles, tobacco, general agriculture, furniture, coal. Now, four of the five have been cut back." Only agriculture is thriving.
The other factor pushing people to disability insurance, says Kregel, is a lack of health insurance. After two years, SSDI beneficiaries qualify for Medicare. "People generally want to stay at work until they can't anymore," he says. Yet illness makes it impossible for some workers to keep going until they're old enough to qualify for Medicare. "If you're on disability, then you get Medicare until you reach the retirement age," Kregel says. "It's a bridge program to Medicare. People figure that out."
Just across the border from Griffith's district, in West Virginia, many workers in similar circumstances have a health insurance alternative, because the state chose to expand Medicaid coverage in 2013 through the Affordable Care Act. Virginia hasn't. "A lot of people here go on SSDI as a way to get the health insurance they need in order to live," Kregel says. Trump's budget also proposes deep cuts in Medicaid spending.
Where Griffith and Kregel agree is that the work requirements the Trump administration wants to impose on some SSDI recipients will be hard for rural areas such as southwestern Virginia to accommodate without federal support. In many places, jobs don't exist or aren't suitable for older workers managing chronic conditions.
While Griffith says he doesn't feel misled by Trump's about-face, he does worry about the potential effect on his constituents. "We've reached out to the Office of Management and Budget, and before we get too far down the road, I will talk to Mick," Griffith says. "I want to make sure he understands that we've got to have jobs for these people who can be retrained and reworked."
The bottom line: Trump's proposed $70 billion in cuts to Social Security disability payments would hit some of his staunchest supporters the hardest.
Before it's here, it's on the Bloomberg Terminal.
LEARN MORE