Rosneft Director Says Russia Unlikely to Extend OPEC Deal Again
By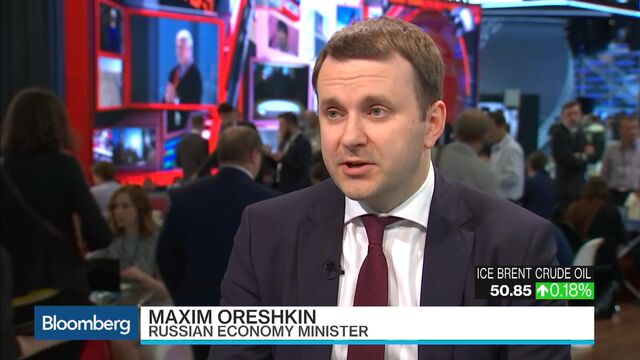 Russia is unlikely to prolong its supply deal with OPEC beyond the nine-month extension agreed last week, because by then it will have served its purpose, according to a Rosneft board member.
"This cartel agreement should exist," Oleg Vyugin said during the St. Petersburg International Economic Forum Thursday. "One year -- I see that as the horizon for this agreement, maybe even earlier."
Rosneft, Russia's largest oil producer, has borne the brunt of output cuts under the extension deal, which seeks to end a supply glut and prop up oil prices amid a three-year slump. OPEC Secretary-General Mohammad Barkindo and Russian Energy Minister Alexander Novak said Wednesday that they are looking for ways to formalize a permanent alliance among oil producers to take more control of oil markets.
"Right now there is a great fear that if we just say we won't limit any more, then oil will again plunge, and that fear is so strong that everyone is ready to agree," Vyugin said in an interview.
Vyugin, an independent director who doesn't hold shares in Rosneft, has served as chief adviser on Russia to Morgan Stanley and was head of Russia's financial regulator, the Federal Financial Markets Service, from 2004 to 2007, according to Rosneft's website.
Oil at $50-$55 a barrel is profitable for both the oil industry and the state budget, he said. While the deal is adding only about $3 to prices, the additional revenue means a lot for the treasury and will be difficult to live without, he said.
"The agreement has created this sort of situation where it is hard to exit it without a temporary fall in oil prices," he said. "To make that decision is really hard."
Before it's here, it's on the Bloomberg Terminal.
LEARN MORE