Lufthansa Weighs Slowing Deliveries of 777X in Boeing Blow
By and
Big jet critical for planemaker as it prepares for 2020 launch

Airline may need more Airbus A350s, fewer 777Xs, CEO says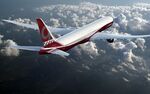 Deutsche Lufthansa AG is considering stretching out deliveries of Boeing Co.'s new 777X aircraft, concerned about the cost and size of the big jet as managers review the airline's fleet needs.
A decision on the new timeline is "urgent" and could be reached by September, according to an internal video presentation by Lufthansa Chief Executive Officer Carsten Spohr. The German airline may take additional Airbus SE A350 planes, which carry fewer passengers than the 400-seat Boeing jet.
"I'm not sure if we've really ordered enough A350s and possibly too many 777Xs," Spohr said at a staff meeting, a replay of which was seen by Bloomberg. "We must now think about either stretching the 777X in a deal with Boeing to let them come in more slowly, or increasing profitability to finance our overdue fleet investments."
The move would be a blow to Boeing, which signed up Lufthansa as a launch customer for the 777X. The Chicago-based company has a backlog for the model worth about $125 billion at list prices, with orders concentrated among airlines that have hit market turbulence recently. Carriers in the Persian Gulf, where low oil prices are damping economies and sapping demand for travel, account for more than three-quarters of the 306 orders.

Deliveries for the 777X -- a new version of Boeing's existing 777 aircraft that will be the industry's largest-ever twin-engine jetliner -- are due to start in 2020.
Lufthansa spokesman Andreas Bartels said reviewing the order book is daily business for any airline and that the company won't comment on internal discussions.
Boeing shares fell 0.2 percent to $187.32 in New York on Thursday. That pared the stock's gain this year to 20 percent, valuing the manufacturer at $113 billion. Lufthansa shares rose 1.8 percent to 17.76 euros at 9:31 a.m. in Frankfurt trading on Friday.
Demand for big twin-aisle aircraft has weakened since Lufthansa placed an order for the Boeing model in 2013, under Spohr's predecessor. Cheaper fuel and an industrywide glut of smaller, relatively young wide-body planes have upended the economics that had favored larger models for long-range flying. 
Slowing Output
Any deferrals or cancellations would add to concerns about the future of the 777, Boeing's second-largest source of profit. The U.S. manufacturer is slowing production of current versions as it encounters weaker sales and prepares to build test planes for the next-generation variant, Boeing's most expensive commercial plane. Boeing spokesman Daniel Mosely declined to comment on potential talks with Lufthansa.
The airline, which has its main hubs in Frankfurt and Munich, is grappling with a shifting aviation market that may have made parts of its orders for 205 aircraft out of step with current trends. Carriers like Norwegian Air Shuttle ASA are ramping up cut-rate trans-Atlantic services using long-range narrow-bodies or fuel-efficient aircraft like Boeing's twin-aisle 787 Dreamliner.

Based on list prices, Lufthansa's order book translates into average spending of 3.9 billion euros ($4.4 billion) a year through 2025. That compares with a budget for about 2.5 billion euros in annual capital expenditure. The $408.8 million 777X would eat up almost all of that, but remains necessary to replace older four-engine aircraft, the CEO said in the video.
Cutting Costs
Spohr's message, delivered in March, may also have been intended to motivate Lufthansa managers to cut costs. He argued that meager profitability has caused the airline to under-invest in its fleet for two decades. The German carrier's aircraft were 11.3 years old on average last year, compared with 5.25 years at Dubai-based Emirates airline and 5.5 years at Dublin-based discount carrier Ryanair Holdings Plc. The aging fleet has left Lufthansa with the highest fuel expenses of any airline in Europe, as it operates almost 100 four-engine gas guzzlers. That includes the largest global fleet of Airbus A340s, a model that has long been out of production.
While Lufthansa ordered 34 777Xs four years ago, 14 of those are "reconfirmable," giving the airline wiggle room to cut spending. The airline also has 20 options. It has 25 A350s due for delivery and holds options for 30 more. The Airbus plane, which seats 293 people and costs about $100 million less, is interesting for long-haul routes frequented by fewer passengers, reducing the need to bundle traffic at large hubs. These capabilities could make long-haul services from Dusseldorf, Hamburg and Berlin viable for Lufthansa's Eurowings budget subsidiary, Spohr said.
Lufthansa has also indicated that it may lease a larger proportion of its fleet and buy more used models to curb expenditures. The carrier said last month that it will replace most of the long-haul planes flown by its Belgian arm and opt for used aircraft.
"Generally speaking, there for sure will be good deals in the coming years," Spohr said in the video. "Airbus and Boeing have sold far too many aircraft to the Gulf."
Other strategies for passenger operations outlined by Spohr included:
New business-class cabin slated for future long-haul planes beginning with the 777X won't be retrofitted onto aircraft currently in fleet
A possible "business-plus" cabin rather than a first class on some 777X aircraft
On European routes, potential introduction of a so-called ultra-light fare cheaper than its current lowest-cost "light" pricing segment
Before it's here, it's on the Bloomberg Terminal.
LEARN MORE