French Prosecutor Opens Preliminary Probe Into Macron Minister
By and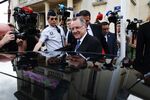 A French prosecutor opened a preliminary probe into one of President Emmanuel Macron's key ministers, maintaining pressure on the government in its first weeks in office.
Brest prosecutor Eric Mathais said his inquiry aims to establish whether Regional Development Minister Richard Ferrand committed any crime when, as managing director of the Mutuellles de Bretagne, he gave contracts to both his current partner and his former wife. Ferrand, one of the earliest backers of Macron's presidential bid and the secretary general of his political party, has repeatedly denied wrongdoing.
While the matters in question may be minor compared with past French political scandals, they come after an election campaign in which public probity played a major role and a week before Macron's government plans to present a "political morality law" that would limit the ability of lawmakers to work as consultants or hire family members.
Macron made his first public comments on the matter during a visit to a shipyard in Saint-Nazaire, western France, on Wednesday.
"A government has to govern, the press has to do its work of questioning and searching for truth and after that there is an independent justice system that will do its work and we must not confuse these roles," he said. Ferrand was present at a dinner Macron had with regional officials yesterday evening.
— With assistance by Alan Katz
Before it's here, it's on the Bloomberg Terminal.
LEARN MORE