China Implored to Curtail Ever More 'Reckless' North Korea
By and
Australia's Turnbull joins U.S. in calling for more action

'With the greatest leverage comes the greatest responsibility'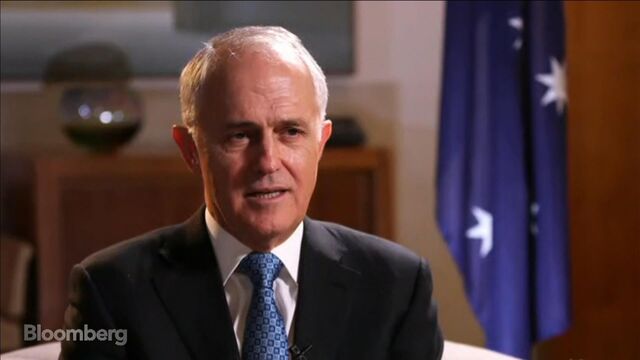 Australia's Prime Minister Malcolm Turnbull joined the U.S. in imploring China to rein in North Korea, saying the regime was becoming increasingly reckless and must be curtailed.
"China has the greatest leverage over North Korea and with the greatest leverage comes the greatest responsibility," Turnbull, 62, said in an interview in Canberra with Bloomberg Television on Thursday. "We look to Beijing to bring the pressure to bear on the regime in Pyongyang, to bring it to its senses so that it ceases threatening the peace of the region with its reckless conduct."
Speaking ahead of his most-anticipated foreign policy speech since becoming prime minister in September 2015, Turnbull also urged China to respect the rule of law as its economic and military might grows. He brushed aside questions about the reliability of President Donald Trump as an ally, and said the U.S.-Australia relationship was "in the best of health."
Read More: Australia PM Turnbull Says Trump Has Very Big Personality
North Korea's aggressive rhetoric, as well as regular missile and nuclear tests in defiance of United Nations resolutions, have continued to vex the international community. That's added to pressure on China, the regime's only major ally, to rein in its errant neighbor.
Trump has warned that all options, including military ones, were on the table, adding that the U.S. was prepared to act without China. Susan Thornton, a State Department official helping oversee Asia policy, told reporters last month that clearly China "has to do more" to curtail the regime.
Chinese Premier Li Keqiang, on a visit to Berlin, told reporters the parties must get "back to the negotiating table" and that China opposed all types of nuclear and missile tests by North Korea.
The threat posed by Kim Jong Un's regime is likely to dominate talks when the region's top defense and military officials gather for the annual Shangri-La Dialogue security forum in Singapore starting on Friday, where Turnbull will give the keynote address. Earlier in the week, North Korea conducted its ninth ballistic missile test this year as Kim ramps up efforts to deliver a nuclear warhead as far as North America.
Australia on Friday said it was targeting five more North Koreans with travel bans and financial sanctions in response to the missile tests.
Read more: How the race to block Kim is hardening a regional split
A key strategic ally of the U.S. in the Asia-Pacific, Australia has long sought to find a balance between supporting American interests and engaging with China, its biggest trading partner.

Turnbull's government is uneasy about Beijing's military build-up in the South China Sea, which contains some of the world's busiest trading routes. China has reclaimed thousands of acres of land to build artificial outposts on reefs, adding airstrips, lighthouses and port facilities to better project influence over the waterway.
"It is important that as China rises, as its economic power grows, as its influence grows, that it does so peacefully and in a manner that respects the rights of all other countries," said Turnbull. "It is vitally important that China respects the rule of law and respects the principle that might is not right."
Like other nations, Australia faces the challenge of adjusting to Trump's style of leadership and doubts about his commitment to Asia.
Australia's normally steadfast relationship with the U.S. suffered a jolt in January when Trump abruptly ended a phone call with Turnbull, telling the prime minister he had spoken to four other global leaders that day and "this was the worst call by far." Trump later blasted a refugee resettlement arrangement with Australia, agreed to by former President Barack Obama, calling it a "dumb deal" in a late-night tweet.
Meeting with Turnbull in New York last month, Trump tried to brush the spat aside. "We will remain friends for a very long time," Trump said at a U.S.-Australia event commemorating the Battle of Coral Sea.
"Our alliance is stronger than ever," Turnbull said Thursday. "The Australia-U.S. alliance is more important than ever." He noted that Australia was increasing its defense spending to 2 percent of gross domestic product and that "everyone has to pull their weight."
His comments were in marked contrast to concerns expressed by German Chancellor Angela Merkel, who at the weekend gave her strongest indication yet that Europe and the U.S. were drifting apart under Trump.
"The times when we could fully rely on others are to some extent over," Merkel told supporters in Munich on Sunday.

Turnbull, whose foreign and defense ministers are scheduled to meet with Secretary of State Rex Tillerson and Defense Secretary James Mattis in Sydney next week, also said he had utmost confidence in Australia's intelligence alliance with the U.S.
Last month, Trump reportedly revealed sensitive intelligence about an Islamic State plot to use laptop computers as possible weapons aboard commercial aircraft to two senior Russian officials. The U.K. temporarily suspended intelligence sharing with the U.S. after details about a suicide bomb attack that killed 22 people at a pop concert in Manchester were leaked to American media.
"We have every confidence in the confidentiality of the intelligence we share," Turnbull said. "Intelligence is more important than ever and in particular in the battle against terrorism."
Before it's here, it's on the Bloomberg Terminal.
LEARN MORE