Bank of Russia Concedes Focus Shifting as Inflation Nears Target
By , , and
Nabiullina sees policy focused on keeping prices low, stable

Central bank won't ease 'sharply and quickly,' governor says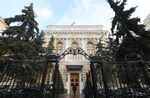 Russia's central bank is shifting gears as the goal of achieving its inflation target gives way to policy normalization.
After a period of two years when rate setters focused on disinflation, steering price growth from almost 17 percent to near 4 percent, their attention now is on keeping it stable and low, Bank of Russia Governor Elvira Nabiullina said on Thursday at a panel during the St. Petersburg International Economic Forum.
"In some sense, the focus of our monetary policy has already changed slightly," she said. The aim is to ensure "a gradual decline of annual inflation to 4 percent and holding it near that level in the future."
With the price goal within reach months ahead of schedule, the central bank is broadening the scope of policy and clarifying its intentions after two surprise rate cuts of half a percentage point each. But its stance remains "moderately tight," leaving Nabiullina to temper expectations of a pivot toward deeper easing two weeks before the Bank of Russia reviews borrowing costs again.
"We don't rush to loosen monetary policy sharply and quickly because we need to be sure that low inflation is rooted in such fundamental factors as a propensity to consume, a propensity to save, based on inflation expectations," she said.
The central bank will cut its key rate to 9 percent from 9.25 percent at its June 16 meeting, according to most of the economists polled by Bloomberg. The benchmark will end the year at 8.25 percent, according to an average estimate of analysts in another survey.
The median value of inflation expectations for a year ahead remains at more than double the target. While consumer-price growth slowed to 4.1 percent in April from a year earlier, households' perceived inflation was at 12.1 percent in May, according to a poll conducted for the central bank. Policy makers consider inflation expectations "a pillar" for making their rate decisions, according to Igor Dmitriev, head of the central bank' monetary policy department.
"Our target is not to reach 4 percent for one month, but to support the stability of low inflation in the medium term," Nabiullina said. "And we can say that we reached low stable inflation in two to three years."
Before it's here, it's on the Bloomberg Terminal.
LEARN MORE