Latest U.K. Polling Shock Puts Traders in Dark as Election Nears
By
YouGov projection sees May's Conservatives losing seats

Model used successfully in Brexit referendum, U.S. election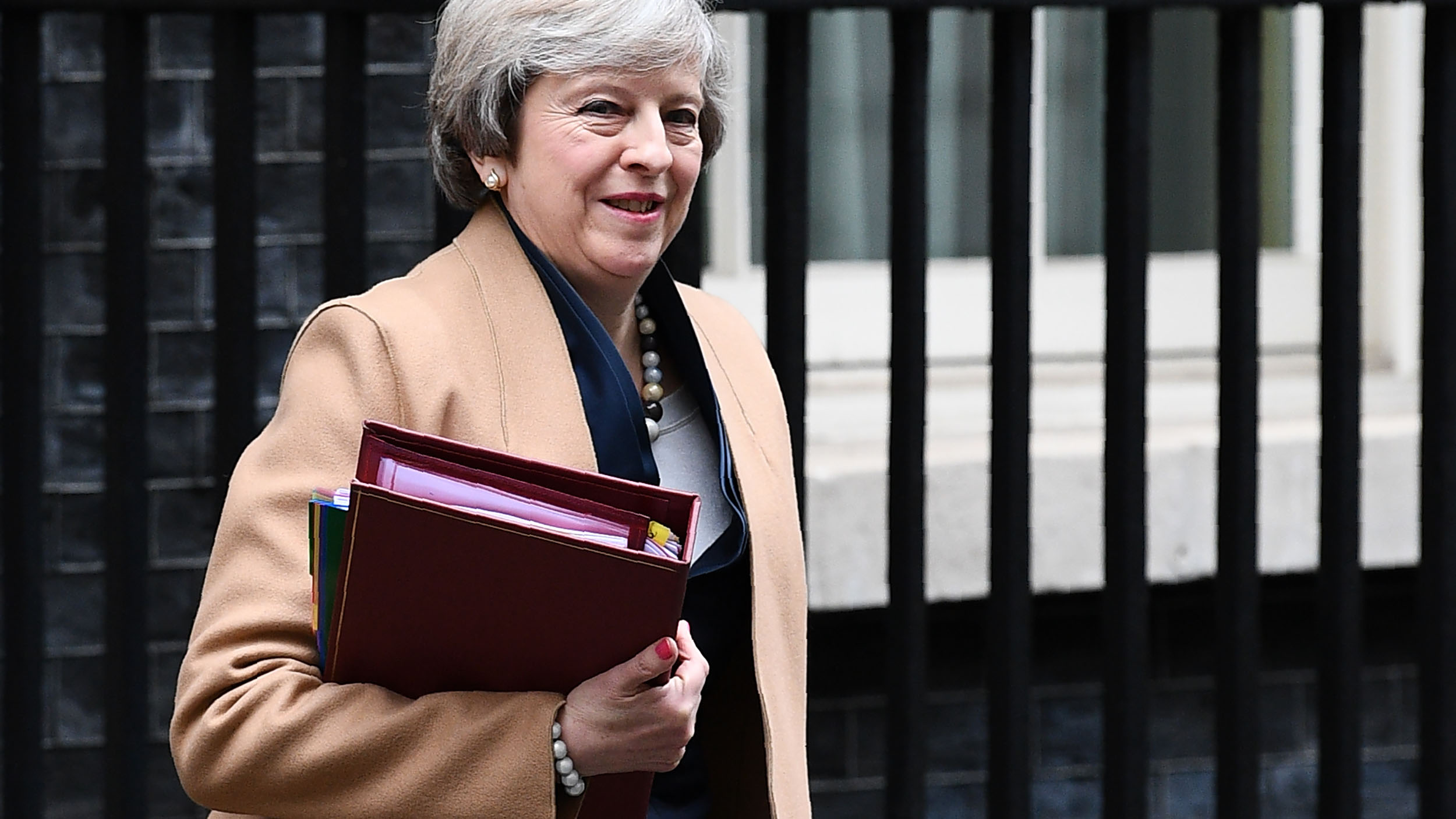 Britain's pollsters and election experts rushed to explain the nuances of their trade after YouGov Plc published an analysis suggesting Theresa May's Conservative Party could lose seats and even power in the June 8 vote.
The pound fell after YouGov's model, published in the Times, suggested the Tories would win between 274 and 345 seats if current polling was replicated on election day. They need 326 for a majority in the House of Commons. Polling experts, including YouGov Chief Executive Officer Stephan Shakespeare, pointed out that the analysis wasn't a prediction, but rather an attempt to translate current polling into seats.
"This is just a snapshot based on data from the past seven days and people can and do change their minds in the closing days of a general election campaign," Shakespeare wrote in the Times. "Furthermore, it would take only a slight fall in Labour's share and a slight increase in the Conservatives' to result in Mrs. May returning to No. 10 with a healthy majority."
The YouGov projection further muddies the election outlook just eight days out from voting. While May enjoyed a lead of more than 20 percentage points when she announced the snap election, polls published since the resumption of campaigning after the Manchester terror attack last week have shown Conservative leads varying from 4 points up to 14 points.
Polling Problems
The model is an attempt to address one of the biggest problems in British political polling: Under the U.K.'s first-past-the-post electoral system, votes don't translate directly into seats. YouGov has divided Britain's 650 districts into four groups depending on how certain the result is in each one. Shakespeare said it relied on conducting 7,000 interviews a day and "multilevel regression and post-stratification" to deliver seat-by-seat results, even though its sample sizes in each district would usually be too small to reliably do this.
Read more: A QuickTake Q&A explains the debate about U.K. polls
According to YouGov, the model correctly forecast the Brexit referendum result last year, and said that although Hillary Clinton would win the popular vote in the U.S. presidential election, the electoral college result was too close to call.
But such a method is extremely difficult. Even the U.K.'s exit poll, which uses a very large number of interviews with people who have actually voted as well as a wealth of past data, struggles to offer precise predictions of the result. 
Four Points
The model's bleak projection for the Conservatives reflected the company's latest headline voting intention figures, which gave the party the support of 42 percent, just four percentage points ahead of Labour on 38 percent.
That's tighter than other companies are reporting. ICM Ltd.'s poll, published the same day, showed the Tories with a 12-point lead.
Other polling experts were quick to point out that YouGov's model was a projection, rather than a straight poll.
"Memorably punchy YouGov seat projection is sophisticated analysis of micro-data, not polling," Andrew Cooper, the co-founder of Populus Ltd., and a former adviser to David Cameron, said on Twitter. "But hard to reconcile with YouGov published polls."
Patrick Sturgis, who chaired the inquiry into what went wrong in 2015 election polling, made a similar point. "Polls estimate vote share not seats," he tweeted. "The YouGov estimate is a model based on polls and other factors." He added, though, that the company's approach had shown "high accuracy" at projecting state-level results in the U.S. election.
YouGov pointed out that they make no attempt to predict whether people will change their mind. "This is our best estimate of the range of seats the parties would win if today's polls were the election result," the company's head of political polling, Joe Twyman, said in an interview. "But today's polls aren't the election result. We're expecting it to change. The fundamentals -- best party leader, best party on the economy, best party on Brexit -- all still favor Theresa May."
Before it's here, it's on the Bloomberg Terminal.
LEARN MORE