Corbyn Puts May on the Spot by Agreeing to Attend Debate
By
Conservative Party official says May's plans haven't changed

With June 8 elections looming, gap between two has narrowed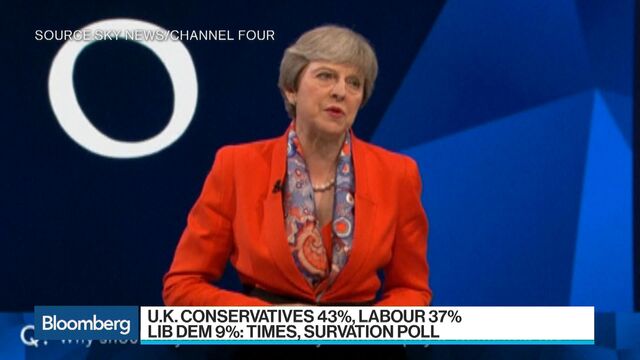 U.K. Labour leader Jeremy Corbyn said he will take part in a seven-way general election debate on Wednesday night as Prime Minister Theresa May stuck to her position that she would rather address voters than confront her rival on live television.
The BBC, which is hosting the debate at 7:30 p.m., confirmed that Corbyn had decided to attend, while a Conservative Party spokesman said that May had no plans to join him. The prime minister has seen her once-comfortable poll lead erode a week before the vote.
The pound dropped to the weakest in five weeks, as a new polling model showed the election could produce no clear winner. That prompted investors to reassess the election that a month ago looked set to produce an overwhelming majority for May.
Latest U.K. polling shock puts traders in the dark as election nears
"It puts her in a bind," said Matt Beech, director of the Centre for British Politics at the University of Hull. "It's difficult but I think the most sensible thing is for May to stick by her guns -- as a PM you lose the gravitas when you're brought to the level of all these other potentials most of whom don't have a chance of winning. If she does turn up she looks like she's not stable and not steady."
May's mantra has been "strong and stable" but she has appeared increasingly uncomfortable when quizzed about her shrinking poll lead and policy U-turns --resorting to a series of personal attack against Corbyn from the Group of Seven summit in Sicily to back home when she resumed campaigning.
"She is out campaigning today, engaging with voters about the issues that matter, not swapping sound bites with six other politicians," according to an emailed Conservative statement.
Read more: What would it take for Jeremy Corbyn to win the U.K. election
While May's lead has certainly narrowed from the 20 points she enjoyed at the start of the campaign, surveys published since the resumption of campaigning after the Manchester terror attack last week have shown a broad range of outcomes, with Conservative leads varying from four points to 14 points.
Still, the momentum has shifted to Labour, and Corbyn is reveling in his new spot in the limelight.
"Everywhere I go all over the country the rallies get bigger, the crowds get bigger, the determination gets bigger," he told a campaign rally in Reading, southern England. "That gives us the chance to do something very special on June 8."
To be sure, Corbyn's recent crop of appearances have not been without fumbles. He was unable on Wednesday to give a cost for his party's pledge to provide free child care in an interview with BBC Radio 4's "Woman's Hour," a program with 3.7 million listeners.
For May, it makes sense to keep up the line of attack and become even more aggressive in questioning if she is to convince voters she is a strong leader, said Beech.
"If she really is a 'bloody awkward woman' she needs to emphasize the strong, she need to be more aggressive, to defend her position," he said. "Theresa may needs to find her inner Margaret," a reference to Margaret Thatcher, known as the Iron Lady.
Before it's here, it's on the Bloomberg Terminal.
LEARN MORE