Pound in Thrall to Election Projections as Market Jitters Rise
By
Currency fluctuates as separate polls paint mixed picture

Sterling volatility has increased before the June 8 vote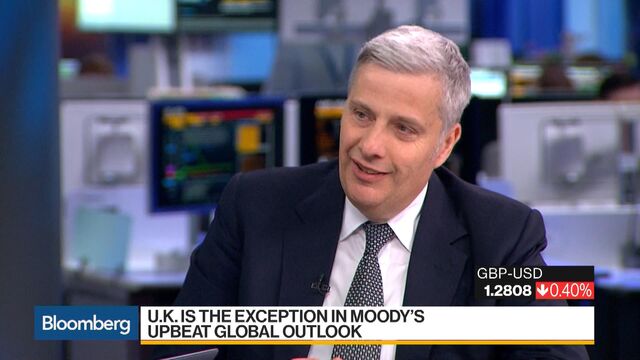 The pound is being buffeted by conflicting projections of the general election outcome, bearing the brunt of increasing market tension before next week's vote.
Sterling first dropped to a more than five-week low on Wednesday after a YouGov Plc study in the Times, based on a new model, showed Theresa May's Conservative Party may fall short of a majority -- a contrast from just a few weeks ago when a victory was seen as a foregone conclusion.
The currency later rallied after the release of a Panelbase poll showing a 15 percentage point lead for the Tories, even though that survey was carried out more than a week ago, before erasing the day's losses as a Kantar study showed a 10 point advantage. A separate Times/YouGov poll Wednesday night showed the Conservatives leading Labour by three points.

The increased sensitivity to polls, no matter what their caveats, is redolent of the way the pound traded before the Brexit vote, when individual releases often caused large swings in the currency. 
While doubts over polling remain after a failure to predict the U.K.'s 2015 election result, the moves on Wednesday are emblematic of how the market has been shocked out of its pre-election complacency by mounting evidence that the race is getting tighter. Measures of expected volatility in sterling that cover the election are jumping, while last week's drop against the dollar was the pound's worst this year.
Given the surprise outcomes of 2015's vote and last year's European Union referendum "with recent polls showing a dramatic fall in the Conservatives' lead, it's no wonder that people are getting twitchy," Cosimo Marasciulo, head of European fixed-income at Pioneer Investments, said in emailed comments. "Recently we've been relatively agnostic about sterling, but have now decided to underweight the currency for the next couple of weeks, in case the depreciation accelerates."
Read more: When Is a Poll Not a Poll? When It's an Election Projection
The pound traded at about $1.2880 as of 5:25 p.m. in New York, after touching $1.2769 Wednesday, the lowest since April 21. Two-week implied volatility for the pound against the dollar climbed above 11 percent. While that's the highest since February, it's well below the more-than 40 percent level reached in the run-up to the Brexit vote.
Polling Doubts
YouGov's estimate released Tuesday, compiled from an innovative analysis of 50,000 interviews of 7,000 people over seven days, suggested May would lose 20 seats and be stripped of her overall majority in Parliament, with just 310 lawmakers in a hung Parliament, down from 330 before she called the election. The result allows for a wide margin of error and the pollster acknowledged that its predictions would be controversial.
"We doubt that the Times/YouGov research is giving us the true picture about how many seats each party will win on June 8th," Kathleen Brooks, EMEA Research Director at City Index, wrote in a note. "It is the outcome of a model that has used untested methodology to come up with this hung parliament conclusion." While not completely discounting it, Brooks did say she would take this report "with a pinch of salt."
For more on U.K. polling, click here.
The Panelbase poll, conducted between May 19-23, showed the Conservatives winning 48 percent of the vote in June 8 elections, with Labour at 33 percent. The company noted that that result bucks the recent tightening trend, noting it will "be releasing another poll in the next day or two and early indications are that it will show a further narrowing of the Con-Lab gap."
A Kantar poll published later Wednesday, conducted between May 25-30, showed the Tories on 43 percent, one point higher than the company's previous poll, and Labour down one to 33 percent.
Follow our TOPLive Q&A blog on the U.K. election on Thursday, June 1, here.
— With assistance by Michael G Wilson, Stefania Spezzati, Blaise Robinson, Netty Idayu Ismail, and John Ainger
Before it's here, it's on the Bloomberg Terminal.
LEARN MORE