Suicide Truck Bomb in Afghan Capital Leaves at Least 93 Dead
By
Attack in the Afghan capital strikes near diplomatic enclave

Security detriorating as Trump mulls extra troop deployment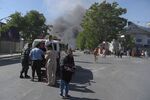 A suicide truck bomb in Kabul killed at least 93 people and wounded 450 on Wednesday morning near a diplomatic enclave in one of the worst attacks on the Afghan capital since 2001.
The explosion happened near the German embassy about 8:25 a.m. in the Wazir Akbar Khan area, a busy neighborhood that's home to the presidential palace and many diplomatic missions, some of which were damaged in the attack. Women and children were among the dead and wounded, Interior Ministry spokesman Najib Danish said by phone. The Taliban denied involvement and no other group so far has claimed responsibility.

The vehicle was stopped by Afghan forces from entering the secured Green Zone, home to government buildings and embassies, according to a statement from the NATO-led Resolute Support Mission. A Roshan Telecommunications office was also hit by the blast and more than 50 vehicles were destroyed or damaged, Danish said. Windows of nearby buildings and compounds were shattered and police cordoned off the district. 
U.S. President Donald Trump reached out to Afghan leaders to discuss the bombing, White House spokesman Sean Spicer said. In a statement, Secretary of State Rex Tillerson called the bombing a "senseless and cowardly act." He said the U.S. "stands with the government and the people of Afghanistan and will continue to support their efforts to achieve peace, security, and prosperity for their country."
The death toll from the attack, which took place during the first week of the holy fasting month of Ramadan, may increase as many of the wounded were in a critical condition, said Health Ministry spokesman Ismail Kawasi, who confirmed the casualty numbers. The casualty count makes it one of the deadliest attacks since 2001.

No Peace
"We want peace but those who kill us in the holy month of Ramadan don't," Abdullah Abdullah, Afghanistan's chief executive who shares power with President Ashraf Ghani, said in posts on Twitter. They must "be destroyed and uprooted."
Security has continued to deteriorate in Afghanistan with the resurgent Taliban claiming more territory across the country and Islamic State militants stepping up attacks. A U.S. watchdog said last month that a record number of civilians died last year, 16 years after then-U.S. President George W. Bush first sent special forces to the country after the Sept. 11 attacks to topple the Taliban regime which sheltered al-Qaeda leader Osama Bin Laden.
"Today's tragedy shows that the conflict in Afghanistan is not winding down but dangerously widening, in a way that should alarm the international community," Horia Mosadiq, an Afghanistan researcher with Amnesty International, said in a statement. "Afghan civilians continue to pay in a conflict where armed groups deliberately target them and the government fails to protect them."
Trump is now mulling whether to deploy as many as 5,000 extra troops to Afghanistan in a bid to bolster the 8,400 U.S. service men in the country and Afghan forces, which are stuck in a stalemate with the Taliban and a small but growing presence of Islamic State insurgents.
On May 24, Tillerson told reporters on Air Force One that Trump's Afghan policy review is still a "work in progress' and a couple of weeks away from being presented.

'Blood and Treasure'
"Trump's generals are clear that the investments made by the U.S. and its allies, the blood and treasure expended, should not go to waste and that this would require some sort of improvement in troop strength, even without an ambitious surge," said Ashok Malik, who heads the New Delhi-based Observer Research Foundation's neighborhood regional studies initiative. "Incidents like this one pretty much strengthens the case made by the NSA and the generals."
Referring to Trump's visit to Saudi Arabia on May 20, he said: "Of the many things President Trump said in Riyadh, the one thing he clearly did not do was announce a disengagement from Afghanistan."
The U.S. intelligence community believes "the political and security situation in Afghanistan will almost certainly deteriorate through 2018 even with a modest increase in military assistance by the United States and its partners," Lieutenant General Vincent Stewart, the head of the Defense Intelligence Agency, told lawmakers in Washington last week. "Meanwhile, we assess that the Taliban is likely to continue to make gains, especially in rural areas."
Before it's here, it's on the Bloomberg Terminal.
LEARN MORE