markets
Japan's Second-Largest Bank Has to Run Just to Stand Still
By and
One-off tax effect, negative rates hitting SMFG's bottom line

CEO gives 700 billion yen target for fiscal 2020 in interview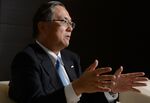 In the era of negative interest rates, Japan's second-largest bank finds itself having to run just to stand still.
Takeshi Kunibe, who took over as chief executive officer at Sumitomo Mitsui Financial Group Inc. in April, has set a new net-income target of about 700 billion yen ($6.3 billion) in the year ending March 2020. That's roughly the same as in the latest 12-month period.
With negative rates, diminishing loan margins and higher foreign-currency costs expected to shave about 100 billion yen off profit over the next three years, Kunibe finds himself with no choice but to intensify an overseas expansion.
"How we hit back against negative rates and shrinking margins is important, so we'll stretch our growth strategy such as overseas business to achieve this," Kunibe said in a recent interview at the banking group's Tokyo headquarters. "Doing nothing means going backward, so we're doing lots of things."
Japan's second-largest bank by market capitalization's new three-year business plan announced after releasing annual earnings last month shows that a one-off tax effect helped boost profit by 100 billion yen in the year just ended.
Kunibe, CEO of the main banking unit before replacing Koichi Miyata as group president, said Sumitomo Mitsui's "No. 1 chance" to expand overseas is the U.S. because of its strong economy. He sees opportunities in corporate bond underwriting by tying up with the group's securities unit, selling on loans, as well as in railcar and aircraft leasing.
Even so, Kunibe said the group maintains its "Asia-centric" strategy and plans to continue adding personnel in the region.
Home and Away
The three-year plan also highlights Sumitomo Mitsui's efforts to expand its presence in business with large corporations.
As well as boosting transactions with non-Japanese companies overseas, Kunibe said the bank would increase fee income from large domestic firms making acquisitions and from advising companies in industries undergoing restructuring.
Read more: Japan megabank's full-year results
In the plan, Sumitomo Mitsui will switch to an internal business-unit structure, with each unit assigned its own financial objectives.
The international unit is forecast to increase net business profit -- a measure that strips out one-off items -- by 14 percent to 415 billion yen by March 2020, global markets 6.5 percent to 330 billion yen, retail 5.6 percent to 285 billion yen and wholesale 3.2 percent to 480 billion yen.
About 4,000 staff will be re-deployed as part of efforts to improve efficiency and cut costs by 50 billion yen during the three-year period.
"Change is fierce in the environment we're operating in, so we must review our business model and undergo self-transformation," Kunibe said.
Before it's here, it's on the Bloomberg Terminal.
LEARN MORE