markets
Goldman Sachs Just Ignited the Venezuela 'Hunger Bonds' Movement
By and
Where would Venezuela be if the bondholders shunned its debt?

Nickname questions investor role in crisis-stricken country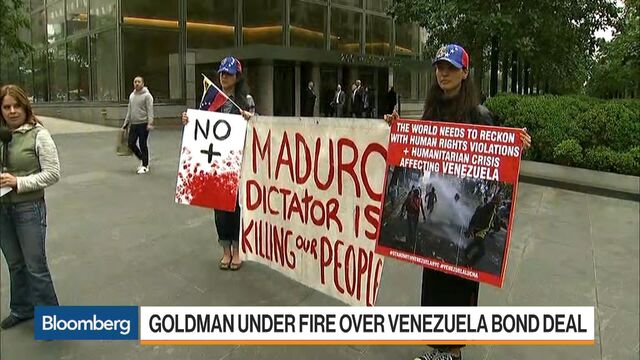 The Venezuelan "Hunger Bonds" movement made limited progress in its first eight months of existence. Aimed at shaming international investors into boycotting the repressive government's bonds, or at least raising awareness about the subject, the term was really only known among a small crowd of specialists.
Then Goldman Sachs Group Inc. made a big investment in the debt.
And because every protest movement needs a foil -- a role Goldman has played many times before -- the campaign has suddenly gained a surge of momentum. Demonstrators outside the bank's New York headquarters Tuesday chanted, "No more hunger bonds, Goldman Sachs," and the term was flying around the internet, appearing in scores of tweets and memes that featured images of malnourished Venezuelans scavenging for food.

Growing publicity, of course, doesn't necessarily translate into greater success in implementing the boycott -- and it isn't entirely clear what it would achieve anyway -- but Jorge Botti, a Venezuelan businessman who started the movement last year, is thrilled.
"I've had friends tell me I'm an idiot for talking about this, that capital has never had a heart and that's why it works so well, but I think that world could find another way of functioning," Botti said in an interview. "I think it's going to start resonating a bit more."

Opposition lawmakers are now joining with academics and activists to decry bond investors' willingness to turn a blind eye to the chaos that's overtaking the country in exchange for fat interest payments. The argument is that providing financing to the government props up despots whose corruption and incompetence have ruined a nation that's home to more untapped oil wealth than any other country on earth.
Goldman says it isn't handing cash directly to the government. The Wall Street Journal reported the firm's asset-management arm bought $2.8 billion of securities from the state oil company through a broker at 31 cents on the dollar. But the transaction appeared to boost international reserves, perhaps giving President Nicolas Maduro more breathing room as he clings to power and waits for an upturn in oil prices to bring in more cash.
Goldman rejected the idea of any moral culpability. The bank said Venezuela's situation "is complex and evolving" and that life there "has to get better. We made the investment in part because we believe it will."
Venezuela's opposition parties immediately criticized Goldman, with Julio Borges, president of the National Assembly, saying lawmakers will begin an investigation and evaluate whether "a future, democratic government of Venezuela should recognize or pay on this debt entered into against the interests of our people."
The term "hunger bonds," a play on the "Hunger Games" movies in which a teenager leads the resistance against a fictional totalitarian state, has resonance because so many Venezuelans lack for food. A study showed that adults on average lost 19 pounds last year due to shortages.
Botti first used the phrase in October 2016 in a post to his Twitter followers (who today total about 17,000) as part of his effort to raise awareness about suffering in the country. A former bondholder himself, he decided in 2015 that he couldn't justify accepting the payments and sold his stake.
"The bondholders know that they're being paid at the expense of the country's hunger," said Botti, who runs a business importing hardware. "A lot of people tell me that the bonds don't have anything to do with people, but I tell them it's a moral issue."
This isn't the kind of dilemma that bond investors typically spend much time fretting over, especially considering that autocracies often outperform democracies in debt markets and that Venezuela has posted some of the world's top gains.

There are few exact parallels in recent history to the "hunger bonds" movement. The closest initiatives may be the boycott, divestment and sanctions campaign against investing in Israel and its companies over concern about the country's policy toward Palestinians, and the "Boycott Gulf" crusade of the 1970s that urged investors to sell stock in Gulf Oil because of its perceived support for Portuguese colonial rule in Angola. The divestment campaign in South Africa during apartheid set an example that has been followed by investors to apply economic pressure in Myanmar and Sudan amid human-rights abuses.
Harvard University professor Ricardo Hausmann, who also gave the "hunger bonds" phrase a boost when he used it in an essay last week, argued that ethics can't be ignored anymore.
50 Cents
Holding the bonds, most of which trade for about 50 cents on the dollar, risks incentivizing investors to root for payments to be made even as the populace suffers, he says. If there's a default, bondholders will be agitating for the right to seize Venezuelan assets for payment -- assets that should belong to the Venezuelan people.
Francisco Ghersi, the managing director of the Venezuelan-dedicated hedge fund Knossos Asset Management, thinks the shaming effort is misguided. Venezuela's problems are caused by corruption and economic mismanagement, not the debt itself, he says.
"What's happening now is a tragedy, but it's not the product of two years of paying off bonds," Ghersi said. "It's audacious to say that today people are dying of hunger because of the foreign debt." 
Before Venezuela's international reserves increased $749 million over two days last week in the wake of the Goldman deal, the cash hoard had dropped to near a 15-year low of $10.1 billion. The next big test for debt investors will come at the end of October and beginning of November, when the state-owned oil company has about $2 billion in bond payments scheduled.
Botti says investors trying to guess exactly how long Venezuela will be able to keep making debt payments are being myopic. He wants the world focused on the humanitarian crisis in Venezuela, not the outsize returns on its bonds.
"Among my fellow entrepreneurs and economists, there is no reflection on the subject," he said. "But I think we must insist."
— With assistance by Katherine Chiglinsky
(
Adds other examples of human-rights campaigns in 14th paragraph.
)
Before it's here, it's on the Bloomberg Terminal.
LEARN MORE