Dutch Negotiator Seeks Majority Government in New Round of Talks
By and
Tjeenk Willink to start by talking to five political parties

Veteran politician says his job is to get parties talking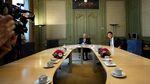 Veteran Dutch politician Herman Tjeenk Willink will talk to five parties, including Prime Minister Mark Rutte's Liberals, in a bid to revive negotiations to form a coalition government.
The minister of state, who previously led coalition talks in 1994 and 2010, plans to talk to the Liberals, Christian Democrats, D66, Greens and Christian Union, he told reporters in The Hague on Wednesday. His first aim in the talks is to form a cabinet with a majority in the 150-seat lower house of parliament.
"Time is the least interesting factor, the result counts," he said, more than 70 days after the Dutch went to the polls in general elections. 
Tjeenk Willink, who succeeded Health Minister Edith Schippers as the new negotiator Tuesday, says his job is to get parties talking in what he called an intermediate phase in the process.
Negotiations to form a multiparty government -- at least four parties are needed for a majority -- reached an impasse after attempts by Schippers failed as all options were blocked by one or more parties. A national election on March 15 left the Dutch parliament deeply divided, with 13 parties taking the 150 seats in the lower house.
Tjeenk Willink, a member of the Labor Party, will have to see if parties are willing to compromise or remain stubborn in rejecting options. This applies to both a majority government or the alternative of a potentially unstable cabinet that controls less than 76 seats in the lower house.
Before it's here, it's on the Bloomberg Terminal.
LEARN MORE