China Factory Gauge Holds Up as Global Economic Outlook Improves
Bloomberg News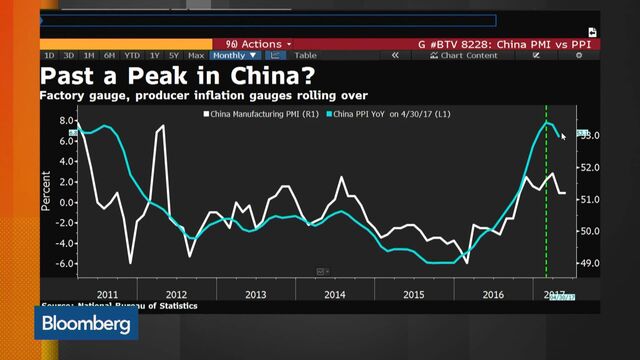 China's official manufacturing gauge held up in May, buoyed by an improving global outlook.
Key Points
Manufacturing purchasing managers index remained at 51.2 for a second straight month in May, compared with a median estimate of 51 in a Bloomberg survey of economists 
Non-manufacturing PMI rose to 54.5
Numbers higher than 50 indicate improving conditions
Big Picture
While some early indicators for May suggested a slowdown in growth is taking hold, the PMI data signal continuing momentum that gives policy makers more room to rein in financial risks. While economists forecast growth will meet or exceed the government's target of at least 6.5 percent this year, projections also point to a continued slowdown after the first quarter's surprise acceleration to a 6.9 percent pace.
Economist Takeaways
"China's economy is stabilizing ahead of a modest slowdown in the second half," said Callum Henderson, a managing director for Asia-Pacific at Eurasia Group in Singapore. "The service PMI was still very strong at 54.5, evidence that the Chinese consumer remains active."
"Whether or not growth has steadied in May, the path for the months ahead is down," Tom Orlik, chief Asia economist at Bloomberg Intelligence in Beijing, wrote in a report. "The official PMI is indicating stability, but most other early gauges point to a further moderation in growth in May. China's markets have also only recently recovered their footing, following the deleveraging scare."
"The global economy will continue to recover and that'll bolster Chinese manufacturers," said Tommy Xie, an economist at OCBC Bank in Singapore. "PMI this year will probably stay above 50. But the deleveraging campaign will inevitably slow growth as tightening measures have already pushed up borrowing costs for factories."
"While Chinese growth may have slowed from earlier this year, it looks to have stabilized at a level that is still solid and consistent with the official 6.5 percent GDP target," said Shane Oliver, head of investment strategy at AMP Capital Investors in Sydney. "Policy is likely to continue to focus on fine tuning the economy, but it doesn't need big adjustments."

The Details
Small enterprises strengthened to 51, the highest in data stretching back five years, while large companies weakened to 51.2 from 52
Input prices weakened to 49.5 from 51.8
New orders were unchanged at 52.3 while new export orders rose to 50.7 from 50.6
Steel industry PMI climbed to 54.8 from 49.1
— With assistance by Miao Han, and Kevin Hamlin
Before it's here, it's on the Bloomberg Terminal.
LEARN MORE