Blowhard or Tough Negotiator? What May Already Won From the EU
By
As home secretary, May succeeded in cherry picking EU policies

But can her strategy translate into victory in Brexit talks?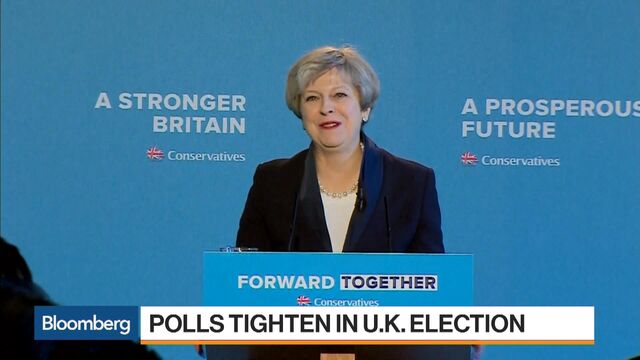 Theresa May's pitch to voters for the U.K.'s June 8 election focuses on her ability to get the "best deal" for Britain in Brexit talks and she says her record of negotiating with the European Union while home secretary shows what she can achieve.
Accused by TV host Jeremy Paxman on Monday of being a "blowhard who collapses at the first sign of gunfire," May talked up her victories in negotiations with her 27 EU counterparts while working on security and justice issues between 2010-2016.
"What you'll find is what the people in Brussels look at is the record I have of negotiating with them and delivering for this country on a number of issues on justice and home affairs which people said we were never going to get and I got those negotiations," she said on the show broadcast on Channel 4 and Sky.
After every European summit, national leaders talk up their achievements, and May is no exception. So what did she actually achieve in Brussels? Here's a look at her record:
Opting in after opting out
Ironically, one of May's biggest achievements was not about cutting ties, but successfully getting the U.K. signed up to EU policies. The achievement was cherry-picking only those that suited her.
The U.K. has had special rights on justice and home affairs matters ever since Prime Minister Tony Blair won an opt-out for Britain when negotiating the bloc's Lisbon Treaty, signed in 2007. The British government had until 2014 to maintain its opt-outs and May confirmed that it wished to do so.
But in December of that year, May convinced the EU to allow the U.K. to opt back in to about one third of the 130 measures, including the European Arrest Warrant and the EU-wide police data base.
VERDICT: A genuine victory for May. She managed to keep Britain's sovereignty on interior affairs but was allowed to pick the EU policies she liked. May referred to this negotiation in a meeting with EU chiefs in April, raising concerns that she will attempt a similar trick in Brexit negotiations. The EU thinks Brexit is a different ball game.
Passenger data
After five years of opposition from European lawmakers, the EU agreed last year on a counter-terrorism law to force airlines to give national authorities information about passengers.
May was an early supporter of the passenger name record initiative, unveiled in 2011 but shelved because of opposition from the European Parliament over data privacy concerns. The opposition ended after the killing of 130 people in Paris in November 2015.
VERDICT: May considers this one of her biggest victories. She was one of several interior ministers to push to include intra-EU flights in the system, which the European Commission said would be too expensive. She was supported by most other EU governments so was pushing an open door much of the time, and the terror attacks in France gave impetus to get the legislation passed.
Asylum-system reform
After the peak of Europe's migration crisis last year, the EU announced an overhaul of its asylum rules after Germany opened its borders to thousands of Syrian refugees.
The proposed change to the so-called Dublin regulation retains the principle that refugees must claim asylum in the country where they first arrive (which the U.K. likes because it means it can deport asylum seekers back to countries like Greece) but adds a new feature that says refugees can be redistributed when there's a surge (which the U.K. hates). The U.K. claimed victory when the European Commission didn't scrap the old system altogether.
VERDICT: May struck a hard line on asylum-seekers as home secretary and the commission's decision not to entirely scrap the current system was partly down to her department's lobbying. But it was also down to the fact that the overhaul came just weeks before the EU referendum and the commission wanted to keep Britain onside. That won't be the case in the Brexit negotiations.
Nitty gritty
May was seen as a politician who was on top of her file, understood the details and could form alliances with European counterparts, Brussels officials and analysts say. But many are quick to point out that Brexit is unknown territory, in which Britain will stand alone against 27 other governments.
The first phase of the Brexit negotiations "is on very technocratic issues -- it's about the budget, it's about trying to nail down the rights of EU nationals in legal language -- but the next thing, the trade agreement, is about high politics," said Stephen Booth, Director of Policy and Research at the Open Europe think tank. "She's well-versed in the more bureaucratic, nitty-gritty side of EU negotiating and the way things are done in Brussels and she's gone through a reasonably big negotiation with the opt-out, opt-in process, but Brexit is a bigger fish."
Whether voters believe May is a brilliant Brussels operator will depend on their existing perceptions of her, according to Anthony Wells, director of political polling at YouGov Plc.
"The level of understanding of European politics among British voters is very low, so whether people believe the claim will be based on what they think of her already," Wells said in a telephone interview. "Brexiteers will tend to trust what she says and people who don't have a positive opinion of her will think she's lying."
— With assistance by Thomas Penny
Before it's here, it's on the Bloomberg Terminal.
LEARN MORE