politics
Trump Communications Chief Dubke Leaving, White House Says
By
Departure announced amid political turmoil for president

Dubke has served less than three months in White House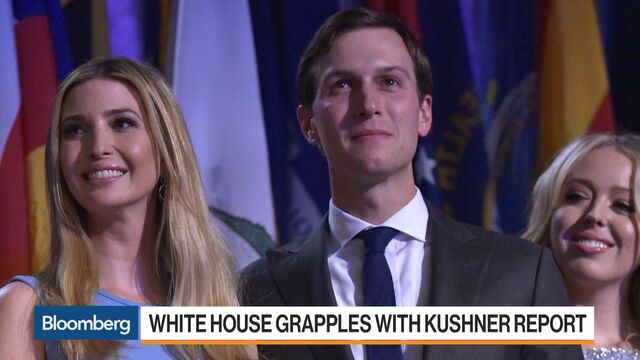 A top White House official announced his resignation on Tuesday after less than three months on the job, a dire start to President Donald Trump's first week back in Washington following a nine-day trip overseas.
"It has been my great honor to serve President Trump and this administration," Communications Director Mike Dubke said in a statement after Trump adviser Kellyanne Conway said on Fox News that he'd "expressed his desire to leave the White House."
Dubke was one of the few senior White House officials without roots in Trump's presidential campaign. He was hired on March 6 to help right a press operation that got off to a shaky start. But Trump's public relations staff have never found their footing as they've tried to manage both a president prone to making his own news via Twitter and a relentless series of reports on his campaign's ties to the Russian government and the Trump family's business interests.
"We appreciate Mike and are very grateful for his service to President Trump and our country," White House Chief of Staff Reince Priebus said in a statement. "Mike tendered his resignation just before the president's historic international trip and offered to remain onboard until a transition is concluded. Mike will assist with the transition and be a strong advocate for the president and the president's policies moving forward."
Trump has grown increasingly frustrated by coverage of his administration, regularly tweeting his displeasure at news reports.
For more politics coverage, subscribe to the Bloomberg Politics Balance of Power newsletter
'Fake News'
"It is my opinion that many of the leaks coming out of the White House are fabricated lies made up by the #FakeNews media," Trump tweeted Sunday.
"Russian officials must be laughing at the U.S. & how a lame excuse for why the Dems lost the election has taken over the Fake News," he added Tuesday.
Conway insisted that Dubke's departure was not part of a broader overhaul in the West Wing.
"In terms of staff shakeups, I always read things that simply aren't true," Conway said. "I work here every day. It's much more collaborative than people realize."
Press Secretary Sean Spicer is likely to retain his position at the White House, according to a person familiar with the Trump administration's communication strategy. Spicer took questions from reporters for the first time since since May 15 in the White House briefing room Tuesday, after multiple reports that his job security was in question. Going forward, Spicer may conduct fewer briefings in front of television cameras, said the person, who requested anonymity to discuss internal White House deliberations.
Spicer stuck mostly to the script in Tuesday's briefing, reading several times from prepared notes and avoiding his typical combativeness with reporters. But the low-key tone shifted about a half hour in when he got into a back-and-forth with reporters over "fake news" and the use of anonymous sources. 
Kushner Probe
When a reporter asked Spicer to provide an example of what Trump considers fake news, he cited a tweet by a BBC reporter who erroneously suggested Trump wasn't listening to a translation of a speech by the Italian prime minister. Several reporters in the room tried to come to the BBC reporter's defense, pointing out that they didn't publish that report.
Spicer refused to answer a question about whether the White House was considering an overhaul of its communications strategy and then abruptly ended the briefing as reporters shouted questions at him. One yelled,"is Kushner fake news?"
The president's son-in-law and senior adviser, Jared Kushner, has come under scrutiny in a federal investigation into Russian meddling in the 2016 election. He is said to have spoken with Russia's U.S. ambassador after Trump's election about setting up a back channel for communications between the president-elect and Moscow, according to a person familiar with the inquiry. The line was never established.
Asked about the matter on Tuesday, Spicer challenged the premise of the questions but also defended the idea. "In general terms, back channels are an appropriate part of diplomacy," he said.
Dubke tendered his resignation May 18 and his final day hasn't been set, Axios reported earlier. Conway said Dubke had agreed to continue working while Trump was away on his first international trip as president.
"I did not know Mike Dubke before he came on as communications director, did not know him well," Conway said. "I know he's worked very hard here."
— With assistance by Shannon Pettypiece
(
Updates with press briefing remarks in 10th paragraph.
)
Before it's here, it's on the Bloomberg Terminal.
LEARN MORE