business
Ryanair Puts Expansion Ahead of Profit With Boeing Jet Binge
By
Growth will pivot away from the U.K. amid Brexit concerns

'There's a huge amount of opportunities' across Europe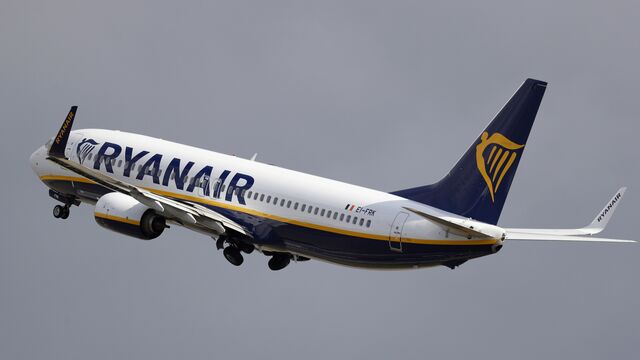 Ryanair Holdings Plc plans to add even more planes to Europe's increasingly crowded skies as the budget carrier bets it can win a fare war with struggling rivals, even if that means slower profit growth.
Europe's biggest budget airline plans to add at least 47 Boeing Co. 737 planes to its fleet by March 2018, a 12 percent expansion. That compares with the Dublin-based company's forecast for 8 percent growth in net income. Ryanair's plans were accelerated as it extended leases on 10 jets through 2019. The airline's also in talks with Boeing to add two or three more aircraft to its existing delivery schedule.
"There's a huge amount of opportunities out there across Europe as we grow and one of the limiting factors continues to be deliveries of the aircraft," Chief Financial Officer Neil Sorahan said in a phone interview. "We've said to Boeing, if they see gaps in their schedule and have additional aircraft, we'll take them."
The focus is on growth in markets like Italy, Germany and Poland, where airlines including Air Berlin Plc and Alitalia SpA are restructuring amid steep losses. By adding to its network of long-haul partners, Ryanair is also seeking to take advantage as traditional competitors scramble to lower costs and maintain services, pressure that appeared to contribute to British Airways' meltdown over the weekend.
Ryanair shares rose 1.2 percent to 17.97 euros at 10:30 a.m. in Dublin, taking its gain over the last 12 months to 28 percent.
Brexit Pivot
The expansion push comes despite doubts about whether the U.K. will remain in Europe's open skies agreement. That could cause "significant disruption" of flights between the two regions for months after Brexit takes effect in March 2019, the company said. "In the absence of such certainty, or direction, we will continue to pivot our growth away from the U.K.," Ryanair said.
The no-frills airline is prepared to cut ticket prices to fill its expanded fleet, forecasting that fares will fall as much as 7 percent this fiscal year after dropping 13 percent in the 12 months through March. The slump, spurred by surplus capacity as European carriers looked to benefit from cheaper fuel costs, was expected to ease this year with the likes of EasyJet Plc and eastern European discounter Wizz Air Holdings Plc forecasting rosier pricing outlooks.
Rising demand in the past year helped push Ryanair's fiscal 2017 net income up 6.5 percent to 1.32 billion euros ($1.47 billion) as passengers increased 13 percent to 120 million. The company is forecasting 2018 earnings to increase to between 1.4 billion euros and 1.45 billion euros.
Before it's here, it's on the Bloomberg Terminal.
LEARN MORE