Italy Hatching Snap Elections Drives Traders to Seek Cover
By and
Stock index had biggest 2-day drop since April on Monday

Yield spread widens on Italian 10-year bonds versus Germany's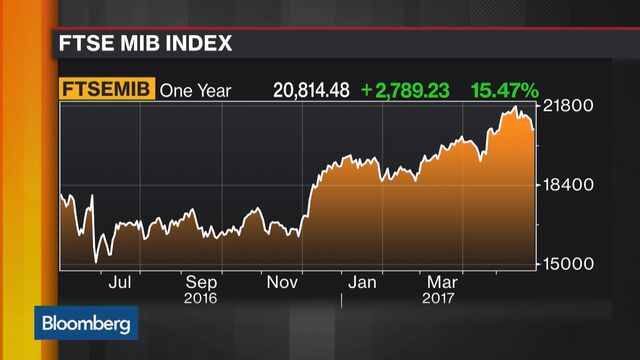 Italian markets shuddered at the emerging prospect of early elections.
Investors dumped stocks and government debt after ruling Democratic Party leader Matteo Renzi signaled the possibility of a vote in September or October, more than six months ahead of schedule. That pushed the nation's bond-yield spread over Germany to its highest in almost four weeks today, and the benchmark FTSE MIB stock index to its biggest two-day drop in more than five weeks on Monday, led by banks.
Political risk had moved to the backburner in Europe with Emmanuel Macron's presidential victory in France and opposition to Chancellor Angela Merkel fading in Germany.

Now investors are recalculating chances of a political stalemate or even more populist influence in Europe. That was a scenario they'd seen diminishing ever since a rocky 2016 that was marked by the populist successes of Britain's Brexit and America's Donald Trump.
The trigger was the country's politicians saying they're closing in on a deal for a new electoral law that's necessary before snap elections can be held. A proportional system, like the one under consideration, runs the risk of producing a hung parliament, while an election this year would come at a delicate time for Italy. Its banking woes are still unresolved and the budget law for 2018 has yet to be approved for the euro region's third-biggest economy.
That's a turn-off for bond investors. For stocks, the FTSE MIB index halted a four-day decline on Tuesday, after tumbling 2 percent on Monday.
"If elections were to be held under the voting system reportedly agreed, we see non-negligible risks that anti-establishment parties could win the government," Fabio Fois, European economist at Barclays Plc in Milan said in a note to clients. "We expect volatility in Italian and periphery assets to increase in coming weeks and to remain driven by electoral polls."
Traders are demanding a yield of about 2.18 percent to own Italian 10-year government bonds, 188 basis points more than German bunds, a spread that has grown to its widest in almost four weeks after the Italian yield added about seven basis points this week.
Investors including BlackRock Inc. and Goldman Sachs Group Inc. see the country as the next focus, after France, of regional political risks. Citigroup Inc. predicted the spread will widen to as much as 300 basis points, levels unseen since 2013. Others investors such as Franklin Templeton are bullish on Italy, defying the political risk in the country.

ABN Amro Bank NV's Head of Financial Markets Research Nick Kounis sees the spread increasing another 50 basis points, approximately, helped by the advent of the European Central Bank announcing in September its plans for tapering quantitative-easing bond purchases.
"Given Italy's poor fundamentals, we expect tapering and political risk to be a negative cocktail for Italian sovereign bonds," Kounis said.
— With assistance by Alessandra Migliaccio
Before it's here, it's on the Bloomberg Terminal.
LEARN MORE