Gulf Spat Escalates as Saudi Arabia, U.A.E. Media Attack Qatar
By
Ties between Arab monarchies fraying after Trump's visit

Qatar accused of undermining Gulf efforts to isolate Iran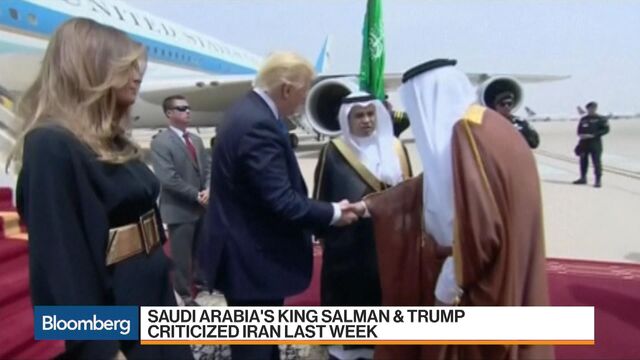 Tensions in the Gulf were laid open for a sixth day, with the media in Saudi Arabia and the United Arab Emirates accusing Qatar of supporting extremism and undermining regional unity. Below is a selection from newspapers and websites highlighting the deterioration in ties just a week after Gulf leaders met in Riyadh to greet U.S. President Donald Trump.
Alittihad (U.A.E.)
The newspaper led with comments by Khalifa Haftar, the eastern Libyan military commander who opposes the United Nations-backed government, accusing Qatar of supporting terrorist groups and mercenaries in Libya. He threatened the militants with what he described as "tough accounting."
The Alittihad's editor also wrote that the U.A.E.-Saudi alliance is stronger than Qatar, which the paper said is propagating false reports of a rift between the two.
Al Bayan (U.A.E.)
Under a front-page headline, "Qatar armed terror to spread chaos," the daily newspaper said Qatar has used the Arab Spring to spread extremism by bankrolling the Muslim Brotherhood. It also carried the comments by Haftar on Qatar's actions in Libya.
Al Khaleej (U.A.E.)
Iran is encouraging Qatar to leave the six-nation Gulf Cooperation Council as it seeks regional disunity to "benefit its ugly sectarian agenda," the newspaper said. "Qatar's policies have aligned with Iran's to destabilize the region and spread terrorism."
Alrroya (U.A.E.)
A columnist in the paper argued that Qatar could be brought to heel by closing its airspace, removing its ability to host the soccer World Cup in 2022. "The Gulf is able to discipline its naughty child with wisdom and banning and other methods," the columnist wrote under a headline, "Qatar's headache and the need to discipline the disobedient son."
Okaz (Saudi Arabia)
The newspaper reported that Qatar's emir Sheikh Tamim Bin Hamad Al Thani is asking Kuwait and Oman to help mediate with Saudi Arabia after "committing the gravest of sins" and after its "support of terrorist groups and the sectarian Iranian regime" was revealed.
"Qatar's virtual battalions on Twitter hiding under Saudi names," read another headline, with the newspaper reporting that Qatar is using people pretending to be Saudi citizens on Twitter to defend itself and attack Saudi and U.A.E. media companies.
Aleqtisadiya (Saudi Arabia)
"Since its inception, Qatar has been an emirate of coups, treachery and playing with fire," the newspaper said. The Gulf had been waiting for a "decisive response" from Qatar's emir to clarify his country's relations with Tehran, and "not one that shows its infiltration."
It also said Gulf allies were "surprised" by Qatar's letter of congratulations to Iranian President Hassan Rouhani on his re-election.
Sky News Arabia (U.A.E.)
The Abu Dhabi-based TV channel ran what it described as an old voice recording of former emir Sheikh Hamad bin Khalifa Al Thani it said proves Qatar's role in meddling in its neighbors' affairs. In the recording, the person identified by Sky News Arabia as the former leader can be heard saying, "we have ties with all opposition groups and we are the one country that annoyed Saudi most."
Al Raya (Qatar)
"Bark as you wish, Qatar won't change its principles," the Qatari newspaper said in response to the U.A.E. and Saudi media criticism. Qatar won't accept "guardianship from anyone" it said, and questioned why "fostering relations and exchanging congratulations with a neighbor is now considered a crime?"
— With assistance by Glen Carey, and Mohammed Sergie
Before it's here, it's on the Bloomberg Terminal.
LEARN MORE