As Point72 Returns Flatline, Cohen Eyes $20 Billion for Fund
By , , and
Cohen's family office has made no money this year, people say

The new fund would raise about half the money from outsiders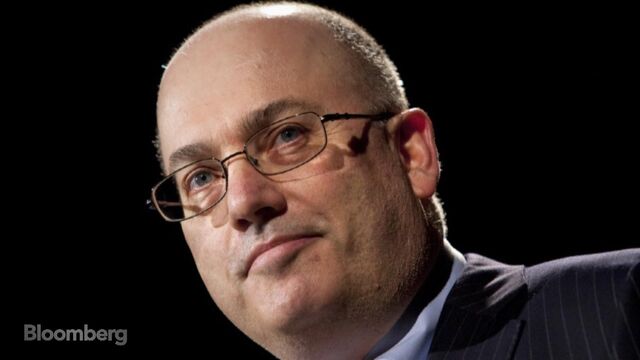 Steve Cohen's Point72 Asset Management has made no money this year and barely posted a gain in 2016. Even so, he's set an audacious goal: raising close to $10 billion in outside capital next year.

Cohen plans to combine the new money with most of his family war chest of $11 billion, bringing the total to about $20 billion, according to people familiar with his family office. If successful, it would be the biggest hedge fund launch ever and the billionaire would manage more money than he did at his peak.
Cohen, who showed up in Las Vegas earlier this month at SALT, the hedge fund industry's biggest event, is seeking to return to managing money for external clients after he was barred from doing so by regulators until 2018. His predecessor firm, SAC Capital Advisors, pleaded guilty to securities fraud in 2013, and agreed to pay a record $1.8 billion fine and convert to a family office. He wasn't charged with any wrongdoing.
The roughly year and a half of close to zero returns through mid-May marks the second-worst performance stretch for Cohen, who is used to making money regardless of the market environment. When he ran SAC, the firm averaged returns of about 30 percent annually, and posted only one losing year, in 2008, when its main fund dropped almost 28 percent.
Read more: How Point72 is injecting data science into investment strategies
Raising billions of dollars would be a particularly impressive feat given that many pension funds and other large investors have pulled money from long-short equity funds that compete with Cohen's as returns have failed to keep up with the bull market.
The flagship hedge fund at Andreas Halvorsen's $32 billion Viking Global Investors rose 7.1 percent in the first four months of the year, while the Renaissance Institutional Equities fund gained 9.5 percent through May 26, according to an investor letter. Citadel's global equities fund is up 4.3 percent this year, according to a person with knowledge of the performance. The average equity-focused hedge fund rose 4.7 percent during the first four months of the year and 5.5 percent in 2016, according to data from Hedge Fund Research Inc.
Over the past several years, Point72 has been trying to inject data science into its investment strategies and experimented with automating the decisions of its best money managers. So far, the firm has struggled to blend its old-school fundamental trading apparatus with quant-driven research. Through a venture capital unit called Point72 Ventures, the firm has also backed outside financial technology startups like Quantopian, a crowd-sourced quantitative investment firm, and trading communication technology company Cloud9.
Seeking Youth
Point72 has also lost many of its seasoned traders. As it moved to rebrand itself it has sought out younger managers, even starting a training program for recent college graduates called Point72 Academy. As part of an effort to recruit millennials, Point72 renovated its gymnasium and built a nap area as well as a lactation room. The firm has also ramped up its marketing compared with Cohen's once-secretive SAC Capital: It's created a Twitter handle and added posts to its LinkedIn and YouTube accounts, while executives have presented at conferences and conducted media interviews.
In order to prepare for new clients, Cohen started Stamford Harbor Capital last year, led by a longtime deputy, Perry Boyle. The firm hired a third-party marketing company run by Douglas Blagdon, who was global head of marketing and investor relations at SAC to meet with potential investors to discuss terms.
Separately, Point72 has also added a multistrategy portfolio.
Mark Herr, a spokesman for Point72, declined to comment on the firm's performance or money raising target. The Wall Street Journal earlier Tuesday reported on the fundraising goal. While SAC charged clients 3 percent of assets and half of all profits, the new fund may pass through expenses to clients, the Journal said. The performance fee would vary depending on the investment returns, the newspaper said.
— With assistance by Nishant Kumar, and Simone Foxman
Quotes from this Article
Before it's here, it's on the Bloomberg Terminal.
LEARN MORE