As Fed Readies Rate Rise, Inflation Slips Further From Goal
By and
Price pressures' ebbing proves more persistent than Fed hoped

Even some inflation hawks in market are taking notice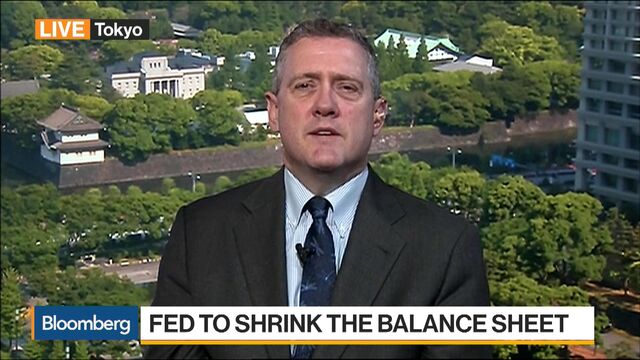 The worst of the price war in the U.S. mobile-phone market may be over. But the lurch down in inflation it helped trigger is not.
The Federal Reserve's preferred price measure rose 1.7 percent in April from a year ago, down from 1.9 percent in March and 2.1 percent in February, Commerce Department figures showed Tuesday. Core inflation -- which strips out volatile oil and food costs -- also slowed to the weakest annual pace since 2015.
A rebound anytime soon looks unlikely, with prices kept in check by an ongoing oil glut, an overstocked auto market and a rising supply of apartments to rent.
"The weakness isn't so transitory," said Omair Sharif, senior U.S. economist at Societe Generale in New York. "There's a lot of stuff underneath the hood that's cooling off."
The result: Inflation looks likely to end the year shy of the Fed's forecast. While the shortfall isn't expected to prevent central bankers from raising interest rates next month, a sustained stall would make it more difficult for Chair Janet Yellen and her colleagues to follow through with another hike later in the year, as their March projections indicated.

"If the soft inflation data persist, that would be concerning and, ultimately, could lead me to reassess the appropriate path of policy," Fed Governor Lael Brainard said in the text of a speech Tuesday to economists in New York.
Fed policy makers forecast in March that inflation would end the year at 1.9 percent, just below their 2 percent goal for the personal consumption expenditure price index. That now looks out of reach, and Sharif said he expects officials to lower their expectations in new forecasts released after their June 13-14 meeting.
Central bankers had been hoping that the ebbing of inflation in March would be temporary, largely the effect of a record 7 percent monthly plunge in wireless-service costs, according to separate figures from the Labor Department. While those prices slipped further in April, there's more at work than just cell phones.
Oil Supplies
OPEC oil producers and their allies are struggling to reduce a supply glut that's depressed crude and gasoline prices and inflation. The group's decision last week to extend output cuts through March failed to lift the energy market.
There is also downward pressure on core inflation, which eased to 1.5 percent in April from 1.6 percent in March in spite of a slightly bigger-than-expected 0.2 percent month-over-month rise.
"The data introduce a seed of doubt, even for an inflation hawk like me," said Stephen Stanley, chief economist at Amherst Pierpont Securities LLC in New York, although he sees the recent price softness as just a blip rather than a change in the underlying trend.
The car market seems in oversupply as cooling sales have left auto dealers saddled with bloated stockpiles that will take time -- and even lower prices -- to clear.
"The new-vehicle market remains in a plateau phase with elevated inventories" and "rising incentives" for car buyers, Mike Jackson, chief executive officer of AutoNation Inc., told analysts on April 25. The Fort Lauderdale, Florida-based company is the largest auto dealership group in the U.S.

The balance between supply and demand of apartments is also beginning to tilt. As a boom in construction brings more stock onto the market, the relentless rise in rents is showing signs of running out of steam. Rather than continuing to accelerate, rental inflation may level off in the second half of this year, some analysts said.

To be sure, there are forces pushing consumer prices in the other direction, including rising labor costs on the back of a tighter jobs market and a weaker dollar.
At 4.4 percent in April, the unemployment rate was below the level that Fed officials calculate is sustainable in the long term. And the same report on Tuesday showed consumer spending is on track to rebound after a weak first quarter. Those are big reasons why policy makers are widely expected to raise interest rates next month in spite of the ebbing price pressures.
Other indicators on Tuesday showed the housing market remains tight and consumer sentiment is relatively strong. The S&P CoreLogic Case-Shiller index of property values in 20 cities rose 5.9 percent in March from a year earlier, matching the biggest gain since July 2014. The Conference Board's gauge of consumer confidence slipped slightly in May, though it's still well above pre-election levels.
Another year of undershooting the Fed's inflation target could be troublesome, however, said Michael Gapen, chief U.S. economist at Barclays Plc and a former central bank official. Consumers, businesses and investors might then be more inclined to believe prices will stay low for a long time.
The risk is "market expectations begin to get centered around that," said Gapen, who sees headline PCE inflation averaging around 1.6 percent in the fourth quarter. "Then you set yourself up for permanently missing the 2 percent inflation goal, always on the downside. The miss could get calcified."
Before it's here, it's on the Bloomberg Terminal.
LEARN MORE