U.A.E. Minister Says Gulf States in Crisis Amid Qatar Spat
By and
Anwar Gargash says crisis poses 'grave danger' to GCC unity

Tension has flared over ties with Iran after Trump's visit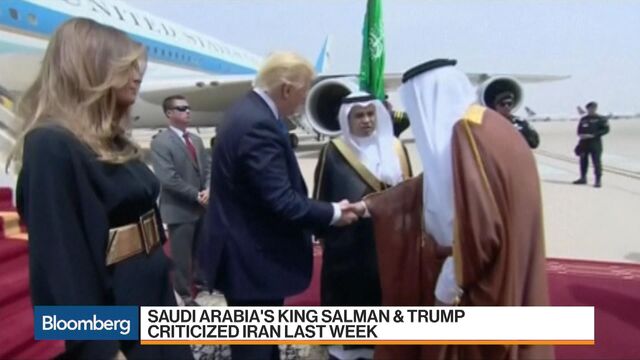 A United Arab Emirates minister said Gulf Arab monarchies are going through a "severe" crisis, an apparent reference to a spat between a Saudi-led alliance and Qatar over ties with Iran.
The dispute poses a "grave danger" to members of the Gulf Cooperation Council, Anwar Gargash, the U.A.E. minister of state for foreign affairs, said on Twitter. "Fending off strife needs a change in behavior, building confidence and restoring credibility."
Tension has flared within the six-member bloc since state-run Qatar News Agency carried remarks criticizing efforts to isolate Iran after U.S. President Donald Trump and Saudi Arabia's King Salman took turns to attack the Islamic Republic at an American-Muslim summit in Riyadh last week. Qatari officials said the statements, which have since been removed, were the work of hackers. The denial didn't stop U.A.E. and Saudi media from accusing Qatar of breaking away from the GCC's position against Iran.
The feud dominated Saudi newspapers on Monday. Okaz's headline declared, "Qatar breaks covenants, doesn't fulfill promises," while Al Eqtisadiah's pronounced, "Qatar: An economy of lost opportunities and investments connected to financial scandals." The website of the Qatari-owned Al Jazeera television channel remained blocked by the Saudi Ministry of Culture and Information.
The Islamic Republic is Saudi Arabia's main regional rival. The two major oil exporters are on opposite sides of conflicts from Syria to Iraq. In 2015, Saudi Arabia assembled a coalition of Sunni-led countries to fight Yemeni Shiite rebels loyal to Iran after they toppled a Gulf-backed government.
Rouhani's Call
Qatar's ruler, Sheikh Tamim bin Hamad Al Thani, spoke by phone with Iranian President Hassan Rouhani over the weekend. Rouhani, a moderate cleric who was re-elected to a second, four-year term last week, said his country was ready for talks to resolve the crisis, according to his website.
"We want the world of Islam, which is suffering from divisions, to advance toward peace and brotherhood and to this effect we are ready to negotiate to get a real agreement," he said.
On the same day, however, Iran's Supreme Leader Ayatollah Ali Khamenei, who wields more power than Rouhani, said the Saudi regime faces certain demise for its policies in Yemen.
"Appearances should not fool anyone," he said, according to his website. "They are on their way out. There is no question about that."
— With assistance by Vivian Nereim
Before it's here, it's on the Bloomberg Terminal.
LEARN MORE