Draghi Says Euro Area Still Requires ECB Monetary Support
By
ECB president speaks at quarterly European Parliament hearing

Recovery increasingly solid but price pressures still subdued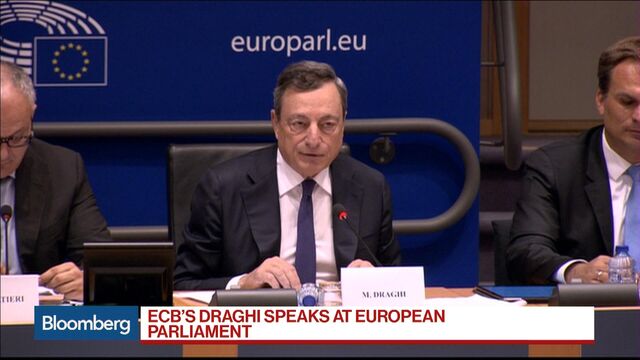 The euro area still needs expansive monetary stimulus to restore stable inflation even as its economy accelerates, European Central Bank President Mario Draghi said.
"We remain firmly convinced that an extraordinary amount of monetary policy support, including through our forward guidance, is still necessary," Draghi told lawmakers on Monday in Brussels. "Domestic cost pressures, notably from wages, are still insufficient to support a durable and self-sustaining convergence of inflation toward our medium-term objective."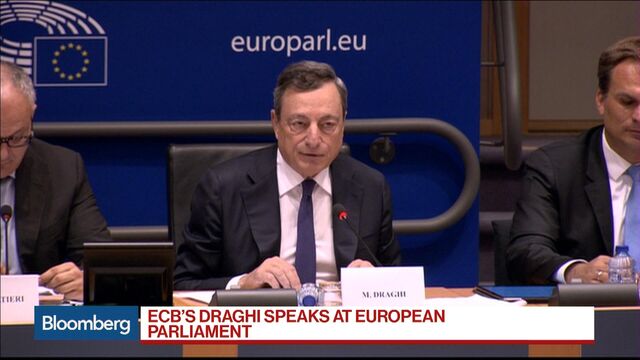 A growing disconnect between the economy's improving prospects and subdued price pressures is shaping the debate ahead of the Governing Council's policy-setting meeting in Tallinn on June 8. Draghi and his fellow policy makers have acknowledged the strengthening of the recovery while urging patience in outlining an exit strategy from negative rates and their 2.3 trillion-euro ($2.6 trillion) bond-buying program.
"The economic upswing is becoming increasingly solid and continues to broaden across sectors and countries," Draghi said in his opening statement at his quarterly hearing at the European Parliament's Economic and Monetary Affairs Committee in Brussels. "The fact that domestic consumption and investment are the main engines driving the recovery makes it more robust and resilient to downside risks, which relate predominantly to global factors."
Draghi stressed that "downside risks to the growth outlook are further diminishing," highlighting one of the key signals that the ECB could send next week. Some policy makers have said they now consider risks to the economy's outlook as broadly balanced.
"It is still very early to think we are going to change the monetary policy stance," he said responding to lawmakers' questions. "Wage growth is still subdued though we start observing the beginning of some growth in various areas of the euro area."
The ECB president also confirmed the limits to the potential expansion of quantitative easing, saying that caps to the share of a country's debt and of each bond issuance that can be purchased "will stay there" and won't be breached.
In his opening statement, Draghi also said that, for inflation pressures to build up, "very accommodative" financing conditions are needed, which in turn rely on a "fairly substantial" amount of monetary accommodation. While this is a somewhat weaker expression than the "very substantial" that has so far been his standard language, Frederik Ducrozet, economist at Banque Pictet & Cie in Geneva, sees no change in the overall policy message.
"Essentially what Draghi just said is that the ECB's third inflation criteria -- that the pickup should be 'self-sustained' -- is not yet met, suggesting no imminent policy tightening," Ducrozet said.
— With assistance by Marcus Bensasson, Alexander Weber, Paul Gordon, and Piotr Skolimowski
Before it's here, it's on the Bloomberg Terminal.
LEARN MORE