A Quick Guide to How Brazil's New Political Crisis May Play Out
By and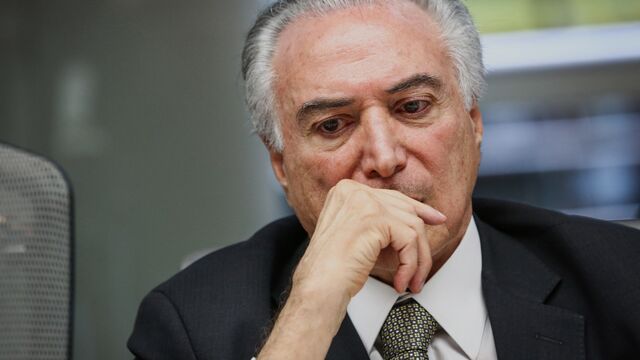 Brazil plunged back into crisis when the Supreme Court authorized an investigation into President Michel Temer on accusations of passive corruption and obstruction of justice. The allegations are the latest development in Operation Carwash, a sprawling corruption probe that has implicated many of the country's business and political elite and helped bring down Temer's predecessor, Dilma Rousseff. Temer has repeatedly denied the allegations, but several opposition legislators have called for impeachment, as has Brazil's influential bar association, the OAB.

1. What are the accusations?
As part of a plea-bargain testimony, brothers Wesley and Joesley Batista, senior executives of JBS, the world's largest meat packer, submitted a secret recording of Temer to the Supreme Court. Joesley was already under investigation by police when Temer agreed to meet him late in the evening of March 7 this year, a meeting that the executive recorded with a hidden device. Prosecutors allege the tape shows the president approving a cover-up and turning a blind eye to corruption by endorsing the payment of hush money to Eduardo Cunha, the imprisoned former house speaker, and offering Batista the services of a presidential aide to help resolve his legal issues. The aide was subsequently filmed receiving a suitcase from the Batistas filled with 500,000 reais ($152,000) in traced bills.
2. How has Temer responded?

In several televised speeches since the allegations first surfaced, Temer has repeatedly said that he will not resign, arguing that he was set up and seeking to discredit Joesley Batista. He also cast doubt on the authenticity of the tape, arguing that it had been doctored. Aside from addressing the accusations, the president has also suggested that Brazil's economic stability is at risk without him and the reforms he is pushing through Congress.
3. How likely is it that Temer will be forced out?
Political risk consultancy Eurasia sees a 70 percent possibility of Temer not finishing his mandate, which ends on December 31, 2018. Other than resignation and impeachment, Temer faces two other threats to his continuation in power: being stripped of his mandate by the country's top electoral court, or becoming a defendant before the Supreme Court. 
His major coalition partners say they will await court rulings and the turnout of upcoming street protests before deciding whether to withdraw their support. On May 24, tens of thousands of demonstrators, mobilized by trade unions, gathered in Brasilia to demand the president's ouster and the end of his reform program. Vem Pra Rua, one of the main grassroots groups that organized protests against Rousseff, has also called for Temer's resignation.
4. How would defeat at Brazil's top electoral court work?
The president could be forced from office by Brazil's top electoral court, the TSE, which reconvenes on June 6. The court is currently assessing whether to invalidate the results of the 2014 presidential election, when Temer ran as Rousseff's vice-presidential candidate, on the basis it was financed with illegal campaign donations.
Temer is hoping to delay the decision and has appointed a new justice minister, who was previously a judge on the electoral court. If stripped of his mandate by the court, Temer would have the right to appeal. Prior to the latest Carwash developments, such a ruling was considered unlikely, due to its dramatic consequences for the country's stability. Now the judges may decide it offers the easiest route out of Brazil's political crisis.
There is some legal debate as to whether this would lead to Congress electing an interim president, as stipulated in the Constitution, or whether precedent from state annulments could lead to a direct, general vote.
Since the constitution was drafted in 1988 there have never been indirect elections, and there are no bylaws determining who would be eligible to stand. For direct elections, any Brazilian aged 35 or over could run.
5. Could Temer be impeached as well?
Legislators from several opposition parties have called for his resignation, and numerous impeachment requests have been filed. For Congress to initiate impeachment proceedings, Rodrigo Maia, the speaker of the lower house and Temer's ally, would have to sign off on the move. That would trigger a lengthy process involving several rounds of voting in both houses, with two-thirds majorities in both houses needed to find Temer guilty of wrongdoing.
In Rousseff's case, the process took eight months. Temer could file appeals at the Supreme Court at any stage. The impeachment scenario is the least likely of the possible Temer exits, not least because Maia has proven a close ally. The 76-year-old president is also well-connected in Congress, after over half a century in politics and three terms as house speaker.

6. How would a conviction by the Supreme Court work?
If the Supreme Court upholds the investigation, the chief prosecutor will build a case against the president. If the general prosecutor decides he has enough evidence, he will file charges against the president. To move forward, the case needs to be approved by two-thirds of the lower house of Congress. Then it goes to the Supreme Court, which has to decide whether to accept the charges. If it does, Temer would be suspended from office for 180 days while he goes on trial. If found guilty, he would be removed from office and could be imprisoned.
7. What happens if Temer leaves office?
If Temer resigns or is forced out, Maia, as the house speaker, would become president for a 30-day period before Congress elects an interim president. Brazilians would vote for their next president as scheduled in October 2018. An early election could be held only if Congress approved a constitutional amendment. Such a change in the law would require a three-fifths vote in both the lower house and the Senate.
11. What happens to Temer's reform agenda?


Temer and his closest allies, including Finance Minister Henrique Meirelles, have urged legislators to separate the political from the economic crisis and to continue backing bills to deregulate the labor market and to establish a minimum retirement age. Still, approval looks like a tall order. Even before the latest scandal, the government was struggling to cobble together the necessary votes to approve a key overhaul of the pension system. With the departure of at least a few dozen allied legislators, that task now looks virtually impossible.
The Reference Shelf

A QuickTake explainer on Brazil's corruption scandal.
A QuickTake Q&A on the pension crisis Temer is seeking to address.
A Businessweek web comic on the Petrobras corruption scandal.
— With assistance by Mario Sergio Lima
Before it's here, it's on the Bloomberg Terminal.
LEARN MORE