Saudi Reserves Dip Below $500 Billion as BofA Sees Headwinds
By
First time they've dropped below this threshold since 2011

Reserves dropped even after kingdom raised $9 billion in sukuk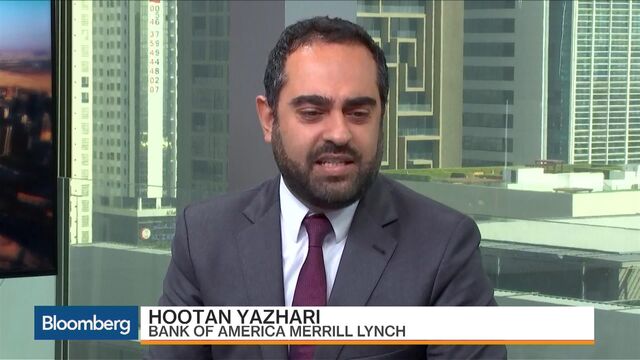 Saudi Arabia's net foreign assets dropped below $500 billion in April for the first time since 2011 even after the kingdom raised $9 billion from its first international sale of Islamic bonds.
The Saudi Arabian Monetary Authority, as the central bank is known, said on Sunday its net foreign assets fell by $8.5 billion from the previous month to about $493 billion, the lowest level since 2011. That brings the decline this year to $36 billion.
"Didn't really see any major driver for such a huge drop, especially when accounting for the sukuk sale," said Mohamed Abu Basha, a Cairo-based economist at EFG-Hermes, an investment bank. Even if the proceeds from the sale weren't included, "the reserve decline remains huge," he said.
Saudi Arabia's foreign reserves have dropped from a peak of more than $730 billion in 2014 after the plunge in oil prices, prompting the International Monetary Fund to warn that the kingdom may run out of financial assets needed to support spending within five years. Authorities have since embarked on an unprecedented plan to overhaul the economy and repair public finances.
But the pace of the decline in reserves this year has puzzled economists who see little evidence of increased government spending, fueling speculation it's triggered by capital flight and the costs of the kingdom's war in Yemen.
Finance Minister Mohammed Al-Jadaan said in April that the government didn't withdraw from its central bank reserves during the first quarter. He said the decline could be attributed to local contractors paying overseas vendors after the government settled its arrears.
Read More: A Middle Eastern Oil Giant is Burning Through its Cash Pile
To be sure, the kingdom still has some of the largest reserves in the world. It also enjoys the lowest debt levels in the Middle East when measured against gross domestic product, IMF data show.
Central bank data show that "some of the funds" raised from the sukuk sale were added as government deposits at the central bank and commercial lenders, according to Monica Malik, chief economist at Abu Dhabi Commercial Bank. "The fact that the government placed its funds in these accounts could imply that it is looking to increase spending soon."
Austerity measures designed to reduce the budget deficit have weighed on the economy, bringing non-oil growth to a halt last year. Loans, advances and overdrafts to the private sector declined 0.6 percent in April compared with the same month a year earlier, central bank data show.
"We expect the Saudi economy to continue to face headwinds and growth to be lackluster this year," Hootan Yazhari, managing director for frontier markets at Bank of America Merrill Lynch, said in an interview on Bloomberg Television.
Economic growth in the world's biggest oil exporter will likely slow to 0.6 percent this year from 1.1 percent in 2016, according to a Bloomberg survey of economists. Authorities say growth will exceed 1 percent, in part because of a plan to launch a four-year, 200 billion-riyal ($53 billion) stimulus package targeting the private sector.
Preparation for the plan could be one reason for the drawdown of reserves, according to John Sfakianakis, director of economic research at the Gulf Research Center in Riyadh.
Saudi officials are carrying out the biggest economic shakeup in the kingdom's history to reduce its reliance on oil revenue. The measures include reducing subsidies and selling government stakes in several companies, including Saudi Arabian Oil Co., or Aramco. The kingdom also allowed qualified institutional investors from outside Gulf Arab states to trade Saudi stocks directly from June 2015, and introduced additional changes this year to attract more funds.
Read More: Deutsche Bank Sees Saudi Inflows Topping $35 Billion on MSCI
"The good thing is that the Saudi government is implementing a lot of new and very worthwhile changes," BofA's Yazhari said.
— With assistance by Ahmed Feteha, and Yousef Gamal El-Din
Before it's here, it's on the Bloomberg Terminal.
LEARN MORE