business
Five Things You Need to Know to Start Your Day
Get caught up on what's moving markets in Asia.
By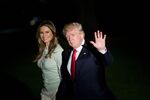 Want to receive this post in your inbox every morning? Sign up here.
Trump says trip a "home run," South Africa's Zuma survives removal scare, and Hong Kong moody about ratings downgrade. Here are some of the things people in markets are talking about.
Home Run or Strike Out?
U.S. President Donald Trump's first trip abroad ended with the G7 summit in Italy — and a tongue-lashing of the press delivered via Twitter once back at the White House. While the president called the trip a "home run" and aides seemed pleased with his performance, other world leaders did not share those feelings. Following the summit, German Chancellor Angela Merkel told a group of her supporters in Munich that Europe must be prepared to take its "destiny into our own hands" and that "the times when we could fully rely on others are to some extent over."
Zuma Stays
Embattled South African President Jacob Zuma will retain his position — for now — after a members of his party's executive committee declined to hold a no-confidence vote on his leadership. His possible ouster was debated at a meeting this weekend. The president, who has been dogged by allegations of corruption and purged his cabinet amid internal dissent, had said he would resign if ordered to by the African National Congress. The South African rand has been the second worst-performing major currency since March 24 amid Zuma's firing of former Finance Minister Pravin Gordhan, besting only another politically-plagued currency: the Brazilian real. Recently, a number of sell-side outfits had turned bullish on the rand due to the potential removal of Zuma. 
'Shallow'
Hong Kong Financial Secretary Paul Chan called Moody's downgrade of the territory last week — on the heels of its cut to China's debt rating — a move based on "shallow" evidence. Onshore, meanwhile, investors are still looking to grasp the significance of the People's Bank of China's tweak to the yuan fixing process announced on Friday. Policymakers are poised to add a "counter-cyclical factor" to the daily fixing of the yuan relative to the U.S. dollar, which effectively gives them more discretion and power to stabilize the currency without direct intervention. The relatively minor move reinforces that Chinese authorities are currently prioritizing financial stability over openness, unwilling to let market forces exert too much sway over the price of their currency.
Back Channel
Jared Kushner, Trump's son-in-law and senior adviser, reportedly considered setting up a secret line of communication between the new administration's transition team and the Russian government. Kushner is also believed to be the White House official who is currently a person of interest in the FBI's probe into Russian meddling into the election. Kushner is said to have spoken about this potential back channel with Russia's ambassador to the U.S. in late 2016, with the aim of discussing a coordinated solution to the Syrian crisis. Representative Adam Schiff, the top Democrat on the House Intelligence Committee, said that Kushner's security clearance should be reviewed in light of these revelations. The New York Times has reported that Kushner and his wife, Ivanka Trump, haven't made a long-term commitment to serve in the new administration and will review their situation twice a year.
On Holiday
U.S. markets are closed on Monday for the Memorial Day holiday after the S&P 500 Index closed at an all-time high on Friday. The benchmark index has risen in every session since its first 1 percent daily decline of the year on May 17. Fresh records haven't deterred investors from betting against U.S. equities, however — short interest as a share of float has surprisingly climbed since the start of the year. Data released on Friday showed that the U.S. grew at a much faster pace in the first three months of 2017 than first estimated, with more spending from consumers and businesses.
What we've been reading 
This is what caught our eye over the last 24 hours.
Before it's here, it's on the Bloomberg Terminal.
LEARN MORE