U.K. Lowers Threat Level, May Urges Public to Stay Vigilant
By
Police release photo of suspected Manchester suicide bomber

Threat lowered to 'severe' from highest level of 'critical'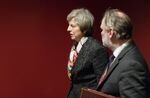 Prime Minister Theresa May said the U.K. terror threat has been lowered to "severe" from "critical" following a number of arrests related to the terrorist attack in Manchester, and police released a photo of the suspected suicide bomber in calling for the public's help.
May led a meeting of the government's emergency committee Saturday, during which she received an update from police and security services on the investigation into the suicide bombing at a pop concert on May 22 that killed 22 people. In response, the threat level had been raised to the highest category a day later.

"The public should be clear about what this means," May said in a televised statement. "A threat level of severe means an attack is highly likely. Members of the public should remain vigilant."
The Manchester attack -- the deadliest on British soil in more than a decade -- prompted the government to raise the terror threat for the first time in 10 years. With less than two weeks before the June 8 general election, political campaigning was put on hold until Friday. Operation Temperer -- the U.K.'s deployment of as many as 5,000 troops to guard key sites -- will remain in place until the end of the weekend, including Monday's public holiday.
Police activity in the past 24 hours was "significant," and Manchester police have 11 people in custody, prompting intelligence analysts to change the threat level to indicate an attack now is highly likely, rather than imminent, May said.
The police have gathered "significant information" in the past five days about the suspected suicide bomber, 22-year-old Salman Abedi, and 14 locations are still being searched in connection with the attack, Greater Manchester Police Chief Constable Ian Hopkins said in an emailed statement.
Police released a closed-circuit TV photo of Abedi on his way to Manchester Arena, where pop star Ariana Grande was performing. Hopkins called on members of the public to help reconstruct Abedi's final movements, asking anyone with information about his whereabouts from May 18 through to the night of May 22 to get in touch.
Before it's here, it's on the Bloomberg Terminal.
LEARN MORE