Trump Goes His Own Way as G-7 Cobbles Together an Awkward Truce
By , , and
U.S. to decide on Paris Accord next week as others back deal

On trade, officials worked until 3 a.m. to agree on text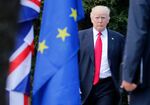 U.S. President Donald Trump showed his determination to break the global mold as he refused to follow the Group of Seven line on climate change and forced a more skeptical approach to free trade.
A summit of G-7 leaders in Sicily wrapped up on Saturday with a fragile truce on the two most contentious topics on the table. The U.S. pushed back on worldwide efforts to curb global warming that Trump's predecessor had signed up to and won a reference in the final statement on the need for trade to be "free, fair and mutually beneficial."
Trump called it a "tremendously productive meeting" that concluded "a truly historic week." 
"I laid out my vision for economic growth, trade" and "in support of fair paying jobs," he said in an address to U.S. troops at an Italian base after the summit, citing "great progress toward very, very vital goals."
Earlier, in an unusual move, six of the seven leaders recommitted to the Paris Agreement on climate change while acknowledging that the U.S. is "reviewing its policies" and thus "not in a position to join in the consensus." Trump tweeted during the talks that he'd come to a decision next week, a fact that his host, Italy's Paolo Gentiloni, didn't seem to be aware of.
"I have no idea what the timeline will be for the U.S. to come to a conclusion on climate change," Gentiloni told reporters at the end of two days of talks.
The agreement to disagree was necessary as a result of the Trump administration's decision to break with the established international order honed over decades. Elected on a platform of "America First," the president told his fellow leaders that protecting U.S. jobs was his priority, according to two government officials from member delegations.
German Chancellor Angela Merkel, the longest-serving head at a summit that featured four leaders not present at last year's G-7, told reporters that the discussion about climate had been "difficult" and marred by "dissent."
"Here we have the situation that six members, or even seven if you want to add the EU, stand against one," she said.
On trade, technical negotiations had stretched until 3 a.m. in Taormina on Saturday to try to reconcile Trump's approach with the others' commitment to open markets. What Gentiloni called an 'equilibrium point" was found in the shape of a commitment to "keep our markets open and to fight protectionism," while acknowledging that "trade has not always worked to the benefit of everyone."
For Merkel, it was a "reasonable solution" that commits to a rules-based system and a successful World Trade Organization.
"In these communiques it's always a give and take," Gary Cohn, the president's top economic adviser, told reporters. "We're all trying to get to the right place and be respectful" of one another."
— With assistance by Margaret Talev, Jennifer Jacobs, and Alessandra Migliaccio
Before it's here, it's on the Bloomberg Terminal.
LEARN MORE