Balance of Power: G-7 Special Edition
By , , and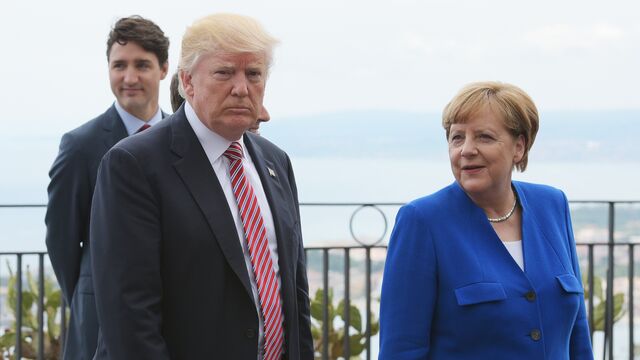 It turns out a year is a long time in G-7 summitry.
At least this year, when a fraying consensus among the world's leading democracies about how the world should be run was on clear display in Sicily.
There was an agreement to disagree on climate change, with six nations refusing to compromise on their support for the 2015 Paris Agreement and the U.S. refusing to sign up. On free trade, the debate was variously described by leaders involved as "intense," "frank" or "interesting."
You could almost measure the impact Donald Trump's U.S. presidency is having in the number of pages the Group of Seven needed to lay out their agreements: six this week, compared to 32 and a further 23 pages of annexes a year ago.
By now, the May 2016 meeting in Japan looks like another era. Trump was still an underdog presidential candidate, the U.K. had yet to vote for Brexit, and U.K. Prime Minister David Cameron still had his job. Agreement on the benefits of free trade or combating climate change was a given.
No more. 
Sign up to receive the Balance of Power newsletter in your inbox, and follow Bloomberg Politics on Twitter and Facebook for more.

G-7 Headlines
Short and sweet | Reflecting divisions on climate change and trade, the final communique and associated documents totaled 8,614 words, just over a third of last year's total, according to John Kirton, director of the University of Toronto's G7 Research Group. The shortest-ever statement was at the first meeting in 1975, when it totaled 1,129 words. The longest? That came in 2004 when the statements clocked in at 38,517 words. Click here for the 2017 statement. 
Trump avoid reporters | The U.S. president heads home after his first trip abroad without having held a press conference, marking a new low for his prickly relations with media. He was the only G-7 leader to leave Sicily without taking questions, breaking with tradition for those who accompanied him on the nine-day visit. No word on whether they'll get a chance on the flight home. 
Fighting terrorism online | Google, Facebook and other companies must do "substantially" more to take extremist material offline and help prevent terror attacks, the G-7 said in the wake of the Manchester bombing. "Make no mistake, the fight is moving from the battlefield to the Internet," said U.K. Prime Minister Theresa May.
Six against one | In an unusual step, the U.S. broke from the pack in the final communique, which said America is reviewing its policies while the others remain committed to the Paris Agreement. "The whole discussion about climate has been difficult, or rather very unsatisfactory," said German Chancellor Angela Merkel. "Here we have the situation that six members, or even seven if you want to add the EU, stand against one."
It's good to talk | You'd never know the G-7 leaders just spent two days talking to each other about climate change. Trump kept everyone guessing on where he stood before tweeting on his way out: "I will make my final decision on the Paris Accord next week!" No one told the Italian host, who an hour later said at the closing news conference that he had "no idea" when Trump would make up his mind. 

First man | While leaders locked horns, their spouses went on a handbag and ice-cream tasting tour in nearby Catania, the birthplace of opera composer Vincenzo Bellini. It's a detail Mr. Merkel, the only male in the group, would know. The opera lover rarely accompanies his wife on trips but a performance by La Scala's Philharmonic Orchestra at the ancient Greek theater of Taormina was too good to miss.
And finally... At his debut on the world stage, the new French president revealed a steeliness that belies his 39 years. In Brussels for NATO, Emmanuel Macron squeezed Trump's hand until his knuckles turned white. Later in Sicily, he spoke English with May, offering cooperation in light of the terror attack, while not ceding an inch on the prime minister's request for parallel Brexit talks. But it was on a sun-kissed terrace with Generation X-er Justin Trudeau that a bromance was born.

Before it's here, it's on the Bloomberg Terminal.
LEARN MORE