U.K.'s May Urges G-7 to Help Iraq Prosecute Foreign Jihadists
By
Prime Minister: allies must share more evidence on suspects

Says Iraq, third countries need help to capture Isil fighters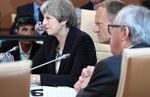 The Group of Seven nations must help Iraq and its neighbors catch and prosecute foreign nationals who travel to fight for Islamic State, U.K. Prime Minister Theresa May said as she called for global action in the wake of the Manchester bombing. 
Speaking at the G-7 summit in Taormina, Sicily, May warned that foreign nationals who travel to Syria and Iraq will try to return to their home countries to carry out attacks on civilians. 
Allies must share the names of terror suspects to help the countries they pass through to catch them -- and should also hand over evidence such as videos or papers that show citizens who have traveled to conflict zones, she said.
May also wants the G-7 to help Iraq and other countries prosecute foreign fighters they capture in their own courts. Her call came four days after a suicide bomber killed 22 people including children at a concert in Manchester, northern England.
"It is vital we do more to cooperate with our partners in the region to step up returns and prosecutions of foreign fighters," May said. "This means improving intelligence-sharing, evidence gathering and bolstering countries' police and legal processes."
Before it's here, it's on the Bloomberg Terminal.
LEARN MORE