Little-Changed U.S. Jobless Claims Signal Solid Labor Market
By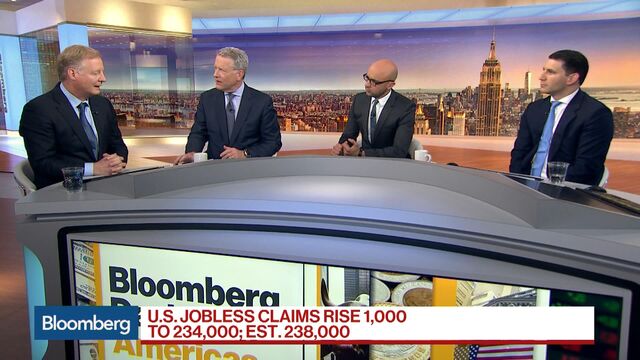 U.S. jobless-benefit claims are hovering near levels that continue to reflect a strong labor market, with figures little changed last week, Labor Department data showed Thursday.
Highlights of Jobless Claims (Week Ended May 20)
Initial benefit filings increased 1k to 234k (forecast was 238k)
Continuing claims rose 24k to 1.923m in week ended May 13 (data reported with one-week lag)
Four-week average of initial claims, a less-volatile measure than the weekly figure, decreased to 235,250 from 241,000 in the prior week
Key Takeaways
Even with the slight uptick in jobless claims, the average over the past month is at its lowest level since 1973. Employers remain optimistic and are choosing to retain rather than fire staff, despite lackluster economic growth in the first three months of the year. That indicates the labor market remains solid and will contribute to a U.S. economy that's widely expected to accelerate in the second quarter.

Other Details
Previous week's initial claims revised to 233,000 from 232,000
Unemployment rate among people eligible for benefits unchanged at 1.4 percent
Louisiana and North Dakota had estimated claims last week
Before it's here, it's on the Bloomberg Terminal.
LEARN MORE