Trump Shames NATO Leaders on Defense Spending
By , , and
President says many alliance members 'owe massive amounts'

Merkel says other security outlays must count toward goal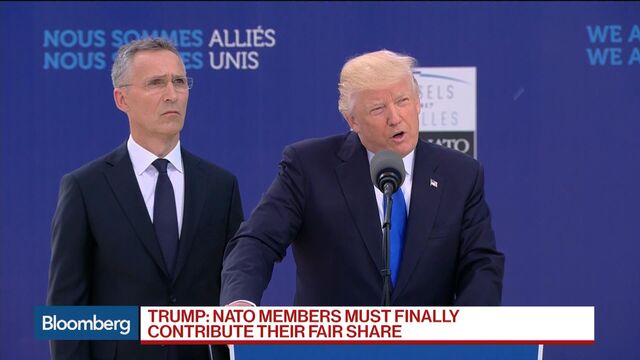 U.S. President Donald Trump hectored NATO leaders to pay their "fair share" on defense to help counter the terrorist threat, in a public shaming that risked souring a ceremony intended to mark the alliance's unity.
Citing this week's attack in the English city of Manchester, Trump told fellow alliance leaders including German Chancellor Angela Merkel that NATO should focus its efforts on combating terrorism. Yet of the 28 member nations, 23 "are still not paying what they should be paying and what they're supposed to be paying for their defense," he said.
"That is not fair to the people and taxpayers of the United States," Trump said at the event in Brussels on Thursday to mark the opening of the North Atlantic Treaty Organization's new headquarters. "Many of these nations owe massive amounts of money from past years and not paying in those past years."
Trump's rebuke of mainly European allies for not spending the recommended 2 percent of GDP on defense came during a ceremony marking the Sept. 11, 2001, terrorist attacks on the U.S., when NATO invoked for the first and only time its mutual-defense clause.

Trump said that NATO would have had $119 billion more if NATO members had lived up to their obligations. "Two percent is the bare minimum for confronting today's very real and very vicious threats," he said.
Trump's comments may disappoint some officials in Europe who had hoped that the U.S. president would offer a public endorsement of NATO's mutual-defense doctrine at the ceremony that honored Article 5, as the provision is known. Trump referred to it only in the context of 9/11, never returning to the topic to state directly that he supports the clause beyond saying that he stood with his NATO allies.
'100 Percent'
Despite the scant mention of the article, Trump's press secretary Sean Spicer insisted "there's 100 percent commitment to Article 5. We're not playing cutesy with this. He's fully committed." During his election campaign, Trump had raised questions about whether the idea that any NATO country must come to the defense of any other was outdated.
"We have heard President Trump before being very blunt on the message of fair burden sharing," NATO Secretary General Jens Stoltenberg said after the meeting. The U.S. president has been very clear on his commitment to NATO's collective defense clause, but also "on his expectations," he said.
Trump's sharp words may have won him few friends among the gathered leaders, who appeared to avoid Trump at the end of the "family photo," the group photograph customary at these global summits. Video circulated online also showed that at one point, Trump used his hand to push aside Montenegro's prime minster, Dusko Markovic, as leaders milled about during the meeting. Montenegro is formally joining NATO next month.
"I didn't register what happened, I only saw it later on social networks," Markovic said later. "It was completely benign. Later on, I had an opportunity to thank President Trump for his support for Montenegro's accession to NATO... But I must say, it is natural for the president of the United States to be in the first row. He belongs there."
Merkel, who stood emotionless during the speech, earlier issued her own challenge to the U.S. president, saying that member states including Germany had already pledged to work toward the 2 percent target by 2024 and that outlays on security more generally also count toward the goal. A plan to reaffirm the spending pledge made three years ago "means nothing more or less than that," she said.

"We're happy that in the future the sole question will no longer be how much we spend on defense but also what contributions are being made to NATO in terms of capabilities and contributions we're offering," Merkel told reporters as she arrived for the meeting. "Germany stands strong in this point and I'll make that clear."
Trump also made clear that he's keeping an eye on NATO's bottom line, noting as he stood under a grand canopy at the alliance's new headquarters in Brussels, "I never asked once what the new NATO headquarters cost. I refused to do that. But it is beautiful."
For more politics coverage, subscribe to the Bloomberg Politics Balance of Power newsletter
— With assistance by Nikos Chrysoloras, Richard Bravo, Jones Hayden, Ian Wishart, Gregory Viscusi, Patrick Donahue, Marine Strauss, Viktoria Dendrinou, Lyubov Pronina, and Jasmina Kuzmanovic
Before it's here, it's on the Bloomberg Terminal.
LEARN MORE