Trump Saves Worst for Last in First Foreign Trip
By
Other leaders won't 'gang up' on the new U.S. president

Focus to be on terrorism and security, where all agree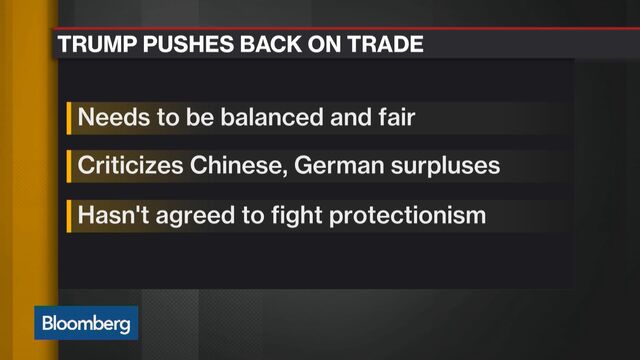 Donald Trump looks to have saved the worst for last in his lengthy first trip abroad as U.S. president: a G-7 summit that will involve debates on climate change and free trade with leaders who would probably rather be dealing with his predecessor.
From a red carpet visit to Saudi Arabia Trump described as "beyond anything anyone has seen," the U.S. president had a first encounter with America's traditional European allies at a frosty meeting of the North Atlantic Treaty Organization on Thursday, where he told them they'd undershot what they "owed" to the alliance by $119 billion and must pay more.
On Friday he met with a smaller group of rich democracies for a two-day encounter long on the multilateral policy debates Trump doesn't like and short on the kinds of concrete arms-for-investment deals struck in Saudi Arabia that can provide gratifying wins to take home. The friction continued.
German media headlined a conversation between Trump and European Commission President Jean-Claude Juncker, in which the magazine Der Spiegel reported the U.S. president as saying: "The Germans are bad, very bad," on trade. "Look at the millions of cars that they sell in the U.S. Terrible. We're going to stop that."
Trump's top economic adviser, Gary Cohn, confirmed Trump had said "they're very bad on trade," but also that he told Juncker he had no problem with Germany, only with German trade. 

Still, the seven leaders looked set to do what they could to avoid public confrontation at an unpredictable meeting.
The Italian host, Prime Minister Paolo Gentiloni focused the event on what everyone around the table can agree to: the need to fight terrorism. A special joint declaration on terror is being drafted in response to this week's bombing of a concert in the U.K, according to an Italian official involved in the preparations.
Japan, meanwhile, hopes to secure language on the need to rein in North Korea's missile tests, said an official with Prime Minister Shinzo Abe's delegation. That's another issue on which all seven nations can easily agree. Abe met separately with Trump on Friday morning.
Security Focus
The focus on security should push more contentious policy areas such as trade and climate change into the background, said Jeremy Shapiro, a former U.S. State Department official now at the Brussels-based European Council on Foreign Relations. According to a French official involved in the preparations, the other leaders will try hard to persuade the president not to follow up on his threat to pull the U.S. out of the 2015 Paris accords to reduce global warming, but avoid any six-against-one face-off.
Climate Change Pact That Made History Now Faces Trump: QuickTake
"They aren't going to gang up on him,'' said Shapiro. "Maybe in a year or two, but not now when he has changed his mind on so many things and they think they may be able to turn him on climate change.''
On Friday, Cohn also said Trump was "leaning to understand the European position" on climate change. The U.S. is not expected to say whether it will pull out of the 2015 Paris accords aimed at reducing global warming until after the summit.
1981 Precedent
This isn't the first time the arrival of a radically different U.S. president has tested the club's unity, according to John Kirton, director of the G-7 and G-8 Research Group, at the University of Toronto, recalling Ronald Reagan's first such summit in 1981, in Canada.
Then, too, the other G-7 leaders saw the new U.S. leader of the free world "as on the far right, with little experience in foreign affairs," said Kirton -- someone "who believed in the magic of the market place and that America would ride tall again in the saddle after the defeatism and weakness of his Democratic predecessor.''
In the event, the expected fireworks failed to ignite. Reagan was in listening mode and against expectation agreed to attend a later United Nations event on the equivalent issue of the day to climate change: whether the rich north should aid poorer countries in the south.
Imposing Sanctions
Yet this year's meeting is unusual for the number of core issues on which the leaders of Canada, France, Germany, Italy, Japan, the U.K., and the U.S. won't just be rubber-stamping language settled beforehand by lower level officials. That's largely because the U.S. either disagrees or hasn't yet settled on a position, three European officials said. All asked not to be named so they could discuss the behind-the-scenes preparations.
An April meeting of G-7 energy ministers failed to produce any statement on climate change, due to U.S. opposition. Earlier this month, the group's finance ministers had to fudge language opposing protectionism in trade, again due to U.S. objections. On both issues, the U.S. has found itself in a minority of one within the club of economically developed democracies. That weakness may carry through into the summit conclusions.

If this week's summit passes as uneventfully as in 1981, that shouldn't be too reassuring, according to Shapiro. That's because like other presidents before him, Trump's initial preoccupation with domestic issues is likely to move to foreign affairs, where the White House has more power to act. At that point, the switches Trump has made to more mainstream positions on questions such as NATO's continued relevance, Russian expansion, and declaring China a currency manipulator could be as "whimsically'' overturned again.
Reagan's second summit is generally considered the least successful in G-7 history and could provide a cautionary tale. It descended into acrimony over U.S. opposition to proposals by the Soviet Union to build gas pipelines to Western Europe. The U.S. followed up by imposing sanctions that affected some of its G-7 allies.
Before it's here, it's on the Bloomberg Terminal.
LEARN MORE