Republican Candidate Charged With Assault as Montana Votes
By
Special election is Thursday to replace Trump appointee Zinke

Fox News crew corroborates Guardian reporter's allegation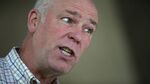 A U.S. House election Thursday in Montana that was shaping up as a referendum on President Donald Trump is drawing national attention for another reason: The Republican candidate was charged with assaulting a reporter who was trying to ask him a question.
On the eve of the special election to fill a seat vacated when Trump appointed GOP Representative Ryan Zinke to become interior secretary, candidate Greg Gianforte was accused of attacking a reporter for the Guardian newspaper of London.
Gianforte, 56, was charged with a misdemeanor after the Washington-based reporter, Ben Jacobs, and witnesses said Gianforte threw him to the ground and punched him. Jacobs was briefly hospitalized, according to Gallatin County Sheriff Brian Gootkin.
Jacobs was seeking to ask Gianforte a question about a Congressional Budget Office report on House Republicans' health-care plan that said the legislation would increase the number of uninsured by 23 million. Gianforte been talking with a crew from Fox News that was setting up equipment for an interview with the candidate.
Three Elections
The race is one of three special elections over the next month in Republican-held congressional districts that will test voters' frustration with GOP efforts to repeal Obamacare and whether Democrats can capitalize on Trump's sagging approval ratings. The other races are in South Carolina and Georgia.
Gianforte, an engineer and software executive, had been favored to defeat Democrat Rob Quist, a cowboy-hat-wearing musician and first-time candidate. Trump won the state, which is represented by only one member of the House, by more than 20 percentage points in the 2016 election.
Democrats sought to capitalize on Wednesday's incident, taking out last-minute ads to inform voters of what happened, but more than half the ballots expected to be cast in the race had already been returned by Wednesday. Several Republican lawmakers also criticized Gianforte on Thursday.
House Speaker Paul Ryan of Wisconsin said Gianforte should apologize."This is wrong and it just should not have happened," Ryan told reporters in Washington.
"People shouldn't behave like that," Representative Robert Pittenger of North Carolina told reporters. "We need civil discourse."
Representative Luke Messer of Indiana left open the possibility that the incident may aid the candidate. "I don't know whether it will hurt him or help him," Messer said.
Court Date
Gianforte received a citation and is scheduled to appear in court by June 7, according to the sheriff.
The two candidates in Montana, and outside groups, have spent more than $16 million on the race, in which Democrats hope a strong showing will indicate that the political tide has turned against Republicans in the Trump era.
Fox News journalist Alicia Acuna reported that she and two colleagues were preparing to interview Gianforte when Jacobs entered the room to try to ask a question about the CBO report. When Gianforte declined to answer, Jacobs tried again.
"At that point, Gianforte grabbed Jacobs by the neck with both hands and slammed him into the ground behind him," Acuna reported. She said she and her colleagues "watched in disbelief as Gianforte then began punching the reporter. As Gianforte moved on top of Jacobs, he began yelling something to the effect of, 'I'm sick and tired of this!'"
Acuna said her team didn't see Jacobs display any physical aggression toward Gianforte, whose campaign had said in a statement released prior to the Fox News report that Jacobs grabbed the candidate's wrist and spun away, pushing them both to the ground. Audio of the incident, posted on the Guardian's website Wednesday night, seemed to corroborate what the witnesses saw and was played in heavy rotation on cable news into Thursday.
Within hours of the incident, three of Montana's biggest newspapers -- the Billings Gazette, the Missoulian and the Helena Independent Record -- rescinded their endorsements of Gianforte.
Jacobs, who was interviewed on CNN on Thursday, said this was the "first time and hopefully the last time I'll ever get body-slammed by a politician."
The sheriff released a statement later Wednesday on a contribution he made to the Gianforte campaign. "I did contribute $250.00 on March 23, 2017," he said. "This contribution has nothing to do with our investigation which is now complete."
— With assistance by Erik Wasson
Before it's here, it's on the Bloomberg Terminal.
LEARN MORE