business
Ford's New Outsider CEO Has Some Catching Up to Do
Jim Hackett has been tapped for the industry's digital and driverless reboot.
By , , and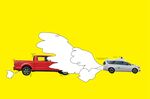 Even as the long bull run in global car sales begins to wane, no one can deny that the past few years have been good times for most automobile makers. Freer-spending consumers and demand for SUVs in North America and China helped drive the industry to a seventh consecutive year of record global sales in 2016. General Motors Co.—less than a decade after it exited bankruptcy—and Daimler AG logged the best earnings in their histories last year. Even shareholders of onetime laggard Fiat Chrysler Automobiles NV got a boost from the improved environment, with its stock cranking out a total return of about 80 percent from late 2014 to May 19.
Yet despite remaining solidly profitable, Ford Motor Co. hasn't exactly been running in high gear. The No. 2 U.S. automaker's shares fell 32 percent in the three years ended May 19, dropping the company's market value to below that of upstart electric vehicle maker Tesla Inc. Ford last fall received a public tongue-lashing from Donald Trump over its plans to move some small-car production to Mexico and ultimately canceled plans to build a factory there. Its 2016 earnings sank 38 percent. And in mid-May the company announced a program to cut 1,400 salaried employees in a bid to show investors that it's controlling costs.

The weight of all that news came tumbling down on Chief Executive Officer Mark Fields, who led the company during the big stock slide. On May 19, Fields was ousted by Executive Chairman Bill Ford because of the disappointing results and a view that the company needs to increase efforts to keep pace as the industry is transformed by electric vehicles, driverless cars, and both ride-hailing and ridesharing services that could result in fewer sales in the not-too-distant future.
"We need to speed up our decision-making, we need to invest our capital where we can create value, and we have to move decisively to address underperforming areas," says Bill Ford.
He's given the task of remaking the company for the digital age to Jim Hackett, a 62-year-old outsider who spent most of his career running a furniture business. Yet the former CEO of Steelcase Inc. has a reputation as a persuasive visionary who's comfortable in the high-tech world—and who's also willing to take a scalpel to a workforce. In his 20 years as Steelcase's CEO, Hackett cut 12,000 jobs and shifted the company from simply making furniture to reenvisioning how people work. He's widely credited with remaking the dreary office cubicle. Now, after three years on Ford's board and a year running its tech-driven Smart Mobility unit, he's responsible for leading the automaker through the same kind of cultural revolution.
"Jim took a company that defined itself as a furniture maker, and said, 'Let's imagine the future of the workplace, let's build our company around that,' " says Bill Ford. "Of course they still make furniture, but in doing so he grew the company and took them to first in the industry."

Hackett will need all his powers of persuasion to convince commuters that Ford has a better idea for self-driving cars and ridesharing than the Silicon Valley crowd. Both Wall Street and many consumers are increasingly enamored with Tesla's vision of electricity as the clean power source of future vehicles. Yet besting buzz-driven Tesla isn't the only challenge in EVs. GM already has a long-range electric vehicle on the market—the Chevy Bolt, which debuted last year—and Ford is still years away from fielding a similar car.
Likewise in ride hailing, Uber Technologies Inc. is far bigger and more global than Ford's own Chariot shared-van service, which plans to operate in only 11 cities by yearend. GM last year invested $500 million for a 9 percent stake in Lyft Inc., the No. 2 ride-hailing service in the U.S. And in autonomous vehicles, Ford says it won't have a fully driverless vehicle on the road until 2021, but Waymo, Google's driverless technology unit, is already letting the public sign up to use its autonomous hybrid Chrysler Pacifica minivans.
In an era when emerging markets—especially China—have become the holy land for GM and big foreign manufacturers such as Volkswagen AG and BMW, North America accounted for about 66 percent of Ford's first-quarter revenue. While GM has exited five underperforming markets since 2015, Ford has been slower to pull the plug. The automaker's South American region, for instance, has operated at a loss for 14 consecutive quarters, racking up $3.4 billion in red ink since the first quarter of 2013.
While Hackett cautions that it's too soon to discuss specific changes, he says he's not afraid to shake things up. "I've made it clear to everyone that everything is on the table in terms of what do we need to get to where Bill and I and the board believe we need to be," he says.
Holes in the company's lineup are one thing that will likely command his attention early on. Despite sport utility vehicles and truck models being in greater demand in the U.S. for years, the company didn't announce until January that it would revive the Ranger midsize pickup and Bronco SUV models. Dealers will have to wait until 2020 for both to be in the lineup.

Ford's profits have been suffering relative to GM's because the company hasn't invested as much in larger SUVs, says Eric Noble, president of consultant CarLab. GM dominates the market with models including the Cadillac Escalade, Chevrolet Tahoe, and Suburban. "They have given up tremendous market share almost exclusively to GM," says Noble, who estimates GM makes about $20,000 apiece in profit on its big SUVs. Ford's "neglect" of the Expedition and Lincoln Navigator, which are being redesigned this year, is "almost unforgivable at a time when SUVs are selling so well."
Where Ford still rules is in trucks. Its F-Series pickup is the company's top-selling model, accounting for about 40 percent of its U.S. revenue as calculated using base-level prices, Bloomberg Intelligence estimates. And with an average sale price of more than $48,000 per vehicle, the F-Series likely accounts for an even bigger share of the automaker's profits, especially since some of Ford's small-car models are believed to be barely profitable. Still, Hackett won't say whether jettisoning small vehicles is in the cards. "Getting out is a big choice," he says. "So I would tell you [I'm] not ready to make that decision today."
Fields came under pressure from Ford's board in May before an annual shareholder meeting, where investors excoriated management for a poorly performing stock price. Hackett has a reputation for acting quickly and a strong relationship with Bill Ford, who was impressed with him during a trip they took to Silicon Valley last year. The executive chairman's family exerts power through a special class of stock and is involved in the company's public communications, so the support of the namesake family is key for a Ford CEO.
That's a similarity between Ford and Hackett's previous employer, Steelcase. At the furniture maker, the descendants of the founding families still have representatives on the board and control a majority of the voting rights. At Ford the family has 40 percent voting control, with two members sitting on the board.
"You actually can have no more committed shareholders because these folks put most of their net worth in the business," Hackett says of the familial nature of both boards. "Their interests are so aligned with everybody else. So I love that."
The bottom line: Ford, whose shareholders missed out on much of the recent good times for automakers, is turning to an outsider as CEO.
Before it's here, it's on the Bloomberg Terminal.
LEARN MORE