Does Foreign Steel Threaten U.S. National Security?
Trump invokes an obscure trade law to find out.
By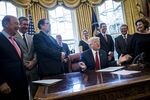 Surrounded by top steel executives in the Oval Office, President Donald Trump gave a speech in April that painted a grim picture of the U.S. steel industry. For decades, he said, American steel companies have been under siege from foreign competitors "who have made a living off taking advantage" of lax trade laws, flooding the U.S. with cheap steel and leading to shuttered mills and widespread layoffs.
The reality for the industry isn't quite so dire. In 2016 the stock prices of the two biggest U.S. steel producers rose the greatest amount in at least a decade, as a raft of trade cases resulted in tariffs on imports from China and other countries. But Trump insisted something larger was at stake. "It's not just the pricing, it's not just employment, it also has to do with the national security of our country," he said.
The night before the president's speech, Secretary of Commerce Wilbur Ross had initiated what's known as a Section 232 investigation by invoking an obscure section of a Kennedy-era trade law that allows the president to investigate whether certain imports threaten national security. The Commerce Department has until later this year to conclude whether steel and aluminum imports qualify as national security threats; Ross says he hopes to finish by June. If it decides they do, Trump will be vested with significantly more power to impose tariffs and otherwise limit imports than he would under a simple antidumping ruling.
"It almost seems to be a blank check," says John Anton, director for steel services at consulting firm IHS Markit. "I look at it and have a hard time seeing any limitation under law on what the president can declare as a remedy." To prove a 232 case, the administration doesn't need to find that imports are being unfairly subsidized, as with World Trade Organization cases, says Jeff Bialos, who helped bring a 232 case against imported oil as a Commerce Department official in the Clinton administration. "This proceeding is an exception to WTO rules," he says. "It's a big sledgehammer."
In his April remarks, Trump said maintaining U.S. steel production is crucial to protecting the country's defense industrial base. Yet the defense industry accounts for less than 5 percent of total domestic steel consumption, according to KeyBanc Capital Markets Inc. The aluminum industry is slightly more important to the military. High-purity aluminum is a key material for fighter jets and warships. Even then, less than 1 percent of total U.S. aluminum production is consumed by the Department of Defense, according to research firm Harbor Aluminum.
Over the past 54 years, only 26 Section 232 cases have been brought, and just five of those resulted in presidential action. The last one, initiated in 2001 by the Bush administration, resulted in no action. It's unclear what a 232 case would mean for U.S. allies, particularly Canada, which supplies about 6 percent of the steel and 42 percent of the aluminum used in the U.S., according to data from researcher Wood Mackenzie Ltd. The administration may have to exclude Canada from any actions taken because it's part of the National Defense Technology and Industrial Base, a consortium engaged in research, development, and production of defense technology in the U.S.
Trump may be using the 232 case simply as a bargaining tool to get China or any other presumed trade offenders to negotiate. "If they're prudent, they'll use this for the basis of negotiation," Bialos says. Either way, it's hard to predict what will come of these investigations, whether Trump will follow through with restrictions on imports, and if he does, what impact that will have. The U.S. doesn't have the capacity to support all its own aluminum and steel needs, so anything the administration does to limit imports may result in higher prices for domestic consumers, says Uday Patel, a senior research manager at Wood Mackenzie.
The move fits with Trump's campaign rhetoric of protecting U.S. industry from imports. However unprecedented, invoking a 232 case may be the only way he can make good on those promises, says Alan Price, a partner at Wiley Rein LLP who represents U.S. steel and aluminum companies. "To achieve all the goals they enunciated in the campaign, they're going to have to use statutory tools that haven't been used in several decades."
The bottom line: If the Trump administration finds that steel and aluminum imports pose a security threat, it will have the power to impose tariffs.
Before it's here, it's on the Bloomberg Terminal.
LEARN MORE