Comey's Tell-All Testimony Runs Risk of White House Roadblocks
By , , and
White House may cite executive privilege to restrict Comey

Special counsel Mueller also may ask ex-FBI chief to hold back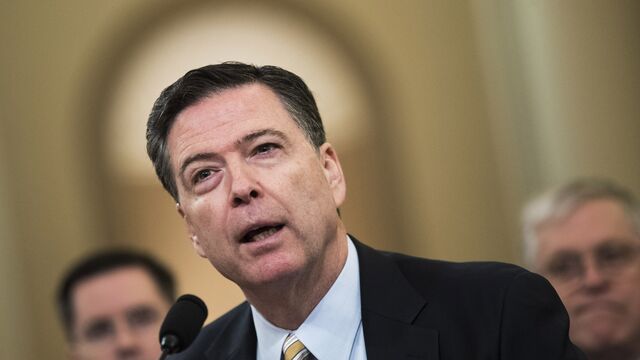 While former FBI Director James Comey is preparing to testify before the Senate Intelligence Committee, the White House or the Justice Department's special counsel may press him to cancel the appearance or curtail any inclination to tell all.
The committee announced last week that Comey agreed to testify in open session after Memorial Day about the FBI's probe into Russian meddling in last year's presidential election and whether anyone close to President Donald Trump colluded in the effort. Trump has said he fired Comey on May 9 at least in part because of the inquiry, which the president has called a "witch hunt."

The White House could try to assert executive privilege to bar Comey from disclosing conversations with Trump or his aides, including one in which Trump reportedly asked Comey to drop an investigation into former White House National Security Adviser Michael Flynn's dealings with Russia and Turkey. Trump has denied doing so.
Comey would probably be concerned by any White House effort to prevent him from testifying or turning over notes of his discussions with the president, according to a person familiar with his views who asked not to be identified discussing Comey's private deliberations.
"Comey is a rule-of-law guy but also someone who believes that the truth must be known," said Ronald Hosko, a former senior FBI agent who worked under Comey and predicts he'd fight back if the White House asserted he's barred from testifying. "He's probably informing himself about what he believes to be the bounds of executive privilege."
Read More About Twists and Turns in the Trump-Russia Probe
Robert Mueller, who's been named special counsel to oversee the Russia investigation, also could press Comey to limit what he'll say in public or assert that memos Comey wrote about his conversations with Trump should be kept confidential as official FBI documents. Days after Comey was fired, Deputy Attorney General Rod Rosenstein appointed Mueller as special counsel. Trump has yet to nominate a successor to Comey as director of the Federal Bureau of Investigation.
As a former FBI director and longtime associate, Mueller may have significant influence on Comey's decisions. Comey wants to be careful to not impede Mueller's investigation and will consult with him, said the person familiar with his views.
Mueller probably sees Comey as one of his top witnesses to potential crimes such as obstruction of justice, said Hosko, who's now president of the Law Enforcement Legal Defense Fund. "These are both very experienced prosecutors and government servants," Hosko said.
Senate Intelligence Chairman Richard Burr, a Republican from North Carolina, said he has contacted Mueller to discuss their parallel probes of Russian meddling.
The FBI didn't turn over memos by Comey on his conversations with Trump that had been requested by the House Oversight Committee by a Wednesday deadline. Instead, the department sent a letter Thursday saying that in light of Mueller's appointment "and other considerations, we are undertaking appropriate consultations to ensure all relevant interests implicated by your request are properly evaluated."
In a response addressed to acting FBI Director Andrew McCabe, Republican Representative Jason Chaffetz of Utah, the panel's chairman, said that "the records being withheld are central" to congressional oversight of the FBI's independence. "Congress and the American public have a right and duty to examine this issue independently of the Special Counsel's investigation," Chaffetz wrote. He set a new deadline of June 8.
Read What Is and Isn't Special About a Special Counsel
Neither the White House nor the Justice Department, which currently handles inquiries for Mueller, would comment on whether steps might be taken to silence Comey.
Senator Mark Warner of Virginia, the Intelligence Committee's top Democrat, said he's seen no hint so far that the administration will make a claim of executive privilege, adding "it would be unfortunate, to say the least."
Democratic Senator Ron Wyden of Oregon, a committee member, said he would push back "very" strongly against a claim that executive privilege limits Comey's testimony or applies to his memos. "If he were to do it, it would be the most sweeping claim of executive privilege I've seen," he said.
'Already Been Fired'
A White House assertion of executive privilege over Comey's testimony and his notes would open a sensitive legal and political debate. Independent analysts said they didn't believe Comey can be stopped if he remains intent on telling his story.
"In the context of a criminal investigation, executive privilege has to give way," said Saikrishna Prakash, who lectures on constitutional law and presidential powers at the University of Virginia in Charlottesville. "How is the president going to stop Comey from testifying? He can't put somebody in jail for violating executive privilege and he can't fire him because he's already been fired."
Ronald Allen, a law professor at Northwestern University, said it would be "perfectly appropriate" legally for Trump to invoke executive privilege to stop Comey from testifying to Congress. But he said it would be "politically dangerous" because it would increase the likelihood a subpoena eventually would be issued in a criminal case that would probably override executive privilege and "would be even more embarrassing."
As FBI director, Comey was outspoken in testimony to Congress -- reaping both praise and criticism for his remarks -- on topics including the agency's investigation of Hillary Clinton's use of a private email server when she was secretary of state and on his disclosure in March that the agency's investigation of Russian interference last year included "whether there was any coordination" with Trump's campaign.
The revelation that Comey wrote detailed memos about his conversations with Trump adds a new element to his planned testimony. His notes on Trump asking him to drop the investigation of Flynn once the White House adviser was forced to resign haven't been made public but the substance has been confirmed by news organizations, including Bloomberg News.
Watergate Precedent
Any effort by the White House to suppress Comey's testimony or bar him from handing over documents might end up in court.
One precedent already looms large in Comey's favor: Watergate. In 1974, the Supreme Court ruled against President Richard Nixon and ordered him to turn over audiotapes and documents to then-special prosecutor Leon Jaworski.
The court held that not even the president can use executive privilege as an excuse to withhold evidence that's "demonstrably relevant in a criminal trial." Nixon resigned 16 days after the ruling.
While courts have recognized a president's entitlement to receive candid, and confidential, advice since the 1974 ruling, that privilege isn't absolute, Prakash said.
Comey is also being asked to testify before a Senate committee, not a court and -- unlike most executive privilege situations where those who control the information oppose its disclosure -- the former FBI director wants to tell his side of the story, Prakash said.
— With assistance by Billy House
Before it's here, it's on the Bloomberg Terminal.
LEARN MORE