Boring Is In Vogue at Fed as Balance-Sheet Plan Comes Into View
By and
'Baby-step' approach to shrinking holdings prevailed in May

Minutes show officials coalescing around a plan for run-off
Federal Reserve policy makers are coalescing around a plan for reducing the central bank's $4.5 trillion balance sheet. The goal: smaller holdings and bored bond traders. 
Nearly all officials at the Federal Open Market Committee's May meeting approved of a strategy to cap the initial reduction at a "low" level and then gradually increase it every quarter, according to the minutes of the gathering released on Wednesday. Runoff would start later this year. It would be simple to communicate, and it would be on autopilot.
Basically, it "will be the policy equivalent of watching paint dry," Philadelphia Fed President Patrick Harker said during a speech in New York on Tuesday.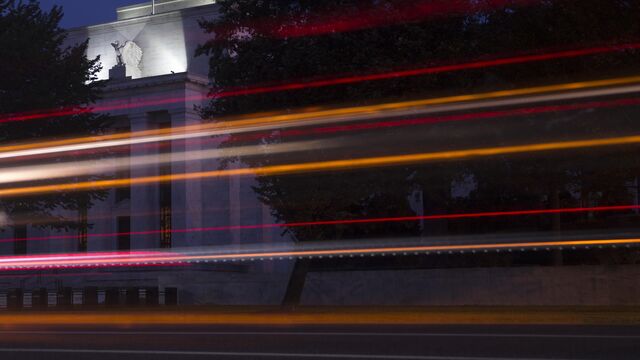 The aim, according to the minutes, is to mitigate the fall-out in financial markets and avoid an "outsized" increase in interest rates. The Fed holds $2.5 trillion of Treasury debt and $1.8 trillion of mortgage-backed securities on its balance sheet, so what it does with that portfolio can have a major impact on the economy.
Past experience illustrates the massive stakes: Former Fed Chairman Ben Bernanke sent shock waves rippling through global markets in 2013 with a mere suggestion that the central bank would taper off asset purchases.
When it comes to roll-off, "it sounds now like they're going to really take a baby-step approach initially," said Kevin Cummins, an economist at NatWest Markets in Stamford, Connecticut. The plan "could come sooner and be dragged out longer than we suspected going into the minutes."
Begin Drawdown
Michael Feroli, chief U.S. economist at JPMorgan Chase & Co., said the central bank could begin the balance-sheet drawdown with monthly caps of $8 billion for Treasuries and $4 billion for for MBS, and then increase them by those same amounts every quarter over the course of a year.
"I'm surprised they're as far along in the planning process as they are," said Lou Crandall, chief economist at Wrightson ICAP. He said the balance-sheet contraction could begin as early as September, although it's more likely to start at the end of the year.
"They seem have resolved the question of how they start," Crandall said. "They haven't resolved the question of when they start or how they finish."  

Fed Chair Janet Yellen has said the central bank wants to significantly reduce its balance sheet, without spelling out how far it would go. Bernanke told CNBC television recently that he thinks the Fed will aim for a balance sheet totaling $2.3 trillion to $2.8 trillion.
Next Year
Nearly all officials at the May meeting agreed they probably could start the process this year as long as the economy and the path of short-term interest rates evolve as expected.
Policy makers in March projected that the economy would grow 2.1 percent both this year and next. They also penciled in two more rate hikes for this year after raising them in March for the third time since the end of 2015.
At their meeting earlier this month, officials saw several advantages to pre-announcing a schedule of gradually increasing balance-sheet runoff. It's "fairly straightforward to communicate" and predictable, the minutes showed Wednesday.
Under the plan, the drawdown would likely proceed as set out "as long as there was no material deterioration in the economic outlook," according to the minutes.
Crandall said the Fed would not be knocked off course by any hiccup in the bond markets in response to its plan, focusing instead on what was happening in the economy.
Before it's here, it's on the Bloomberg Terminal.
LEARN MORE