GE Drops After Immelt Predicts Challenges to Hit 2018 Targets
By
Earnings target would be high end of 2018 range, Immelt says

Company faces obstacles in oil industry, equipment pricing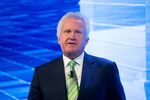 General Electric Co. Chief Executive Officer Jeffrey Immelt, under pressure from activist investor Trian Fund Management to boost profit, is giving shareholders little reason for optimism.
The industrial giant will have to stretch to meet the goal of earning $2 a share next year amid challenging conditions in the oil industry and headwinds in equipment pricing, Immelt said Wednesday. Assuming there's no improvement in the resource markets, a profit of that level "would be at the high end of the range," he told analysts.
The CEO's comments amounted to a "subtle walk back" of the 2018 target even though it wasn't officially cut, said Cowen & Co. analyst Gautam Khanna. GE first proposed the figure two years ago and Trian said last month that the Boston-based maker of jet engines, locomotives and oilfield gear should be able to surpass it.
The earnings uncertainty adds to the pressure on Immelt after several quarters of weak results and GE's 12 percent slide in the stock this year. He already was in the "hot seat" after a worse-than-expected cash-flow performance in the first quarter alarmed investors, Deane Dray, an analyst at RBC Capital Markets, said in a report last week.

GE turned negative as Immelt spoke. The shares fell 1.6 percent to $27.83 at the close in New York, erasing earlier gains. That was the biggest decline on the 30-member Dow Jones Industrial Average.
Trian Pressure
Trian, one of GE's largest shareholders, has called on Immelt to reduce expenses and improve operations. The activist investor said last month that GE had a path to earn as much as $2.33 a share next year if it hits cost targets and continues to generate sales growth. That suggestion contrasted with increasingly bearish analysts, who anticipate $1.88, according to the average of estimates compiled by Bloomberg.
Following talks with Trian earlier this year, GE said it would cut costs more aggressively and reduce management bonuses if it fails to meet certain financial goals. Asked Wednesday about succession, Immelt, 61, declined to detail his future plans.
"We've got a very deep bench," he said at the Electrical Products Group conference in Longboat Key, Florida.

Trian, founded by Nelson Peltz, Ed Garden and Peter May, didn't respond to a request for comment.
Seeking Payoff
Now in his 16th year at the helm of GE, Immelt is trying to arrest the stock slide as investors look for a payoff from the widely praised shift he led in recent years away from finance and toward industrial manufacturing. Spotty global economic conditions and an oil-industry slump have kept pressure on sales and cash flow.
In a spirited exchange during the presentation's question-and-answer portion, Immelt defended GE's performance and highlighted plans for 3 percent to 5 percent organic growth. He said this is one of the only times in his tenure as CEO that he strongly disagreed with the stock price, along with market dislocations in 2001 and 2009.
"Today, when I think about where the stock is compared to what the company is, it's a mismatch," he said.
After Deutsche Bank AG downgraded the stock, GE closed as low as $27.41 last week, a level not touched since October 2015. "Nobody likes how the stock's traded this year, but it's up to us to execute," Immelt said.
GE has as much as $12 billion in "unallocated capital" for uses such as acquisitions, he said. The company expects to close a deal to merge its oil and gas business with Baker Hughes Inc. by early July, he said.
Before it's here, it's on the Bloomberg Terminal.
LEARN MORE