Dutch Political Leaders Seek to End Impasse in Coalition Talks
By
Lead negotiator will talk to political leaders again on Friday

At least four parties are needed for majority government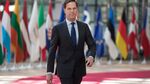 Moves to revive Dutch coalition talks are likely to drag into next week without any clarity on the direction the discussions on forming a new multiparty government will take.
Seventy days have now passed since the Dutch cast their votes for a new parliament, but there is no sign yet that a new government can be in place soon. A first attempt at formal negotiations between Dutch Prime Minister Mark Rutte's Liberals, the Christian Democrats, the centrist liberal D66 party and the Greens failed last week over immigration policy, and preliminary talks about another combination of parties collapsed Tuesday.
Lead negotiator Edith Schippers announced she will hold further preliminary talks with party leaders on Friday in the hope of breaking the deadlock. Schippers said earlier this week that a government of the Liberals, Christian Democrats, D66 and the smaller Christian Union party was the "only remaining serious option'' left in her opinion, as all other options had been rejected by one or more of the parties. But that option was dismissed by the leaders of both D66 and the Christian Union.
The March 15 elections left the Dutch political landscape deeply divided with 13 parties taking up seats in the 150-member lower house, meaning at least four parties are needed to form a government with a majority in parliament. The process of finding a government invariably takes time in the Netherlands: average of 72 days since the Second World War.
The lower house called on Schippers Wednesday to complete her mission as soon as possible and advise what combination of political parties would result in a stable coalition. Lawmakers will hold a debate on the progress of the talks next week.
Meanwhile Rutte, whose party is the biggest in parliament with 33 seats, talked privately on a beach near The Hague Wednesday for several hours with D66 leader Alexander Pechtold, one of the main gainers in March. Afterward, neither man was willing to comment on what they discussed there, but Rutte said he has "only one interest and that is to find a stable government as soon as possible."
Before it's here, it's on the Bloomberg Terminal.
LEARN MORE