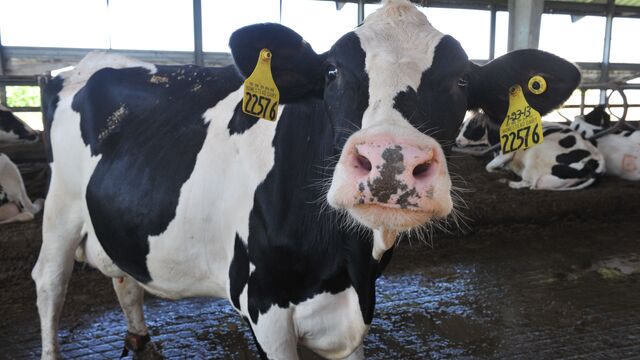 Canada's dairy industry, which receives tariff and quota protections from its government, has drawn the ire of U.S. President Donald Trump, who blames Canada for millions of dollars in lost sales for U.S. milk producers. In this, Trump isn't alone. Other nations also worry that Canada may start dumping low-cost milk products on the international market, exacerbating a global glut that's weighed on prices and led to losses all over the world.
1. What got Trump's goat?
Canada rolled out a new policy that makes it cheaper for Canadian processors to buy domestic supplies of ultra-filtered milk, which is used in cheese and yogurt. Some U.S. dairy companies, mostly in New York and Wisconsin, say they've lost all their Canadian sales of that product as a result. Trump called the move "a disgrace" and wrote on Twitter, "Canada has made business for our dairy farmers in Wisconsin and other border states very difficult. We will not stand for this. Watch!"
2. What is ultra-filtered milk?
Commercial dairies started making it in the mid-1990s. Milk is pushed through a membrane to filter out proteins and fat molecules, making it more concentrated and easier to transport. The protein concentrate is used in various food products like cheese and yogurt and specialty items such as infant formulas and low-fat spreads. Dairy farmers and processors developed a new pricing formula for ultra-filtered milk in order to stem losses from rising U.S. exports of the proteins into Canada. The policy was approved by the government-owned Canadian Dairy Commission.
3. How does Canada explain its actions?
The country's dairy industry argues the way it manages its supply helps stave off the types of gluts that can strike U.S. milk producers. Since the 1970s, Canada has operated its dairy industry under a system known as supply management: It sets production quotas meant to match domestic output with demand and there are tariffs on imports. So even during a global glut, as is happening now, income for Canada's milk producers has remained stable. The average net operating income per dairy farm in 2016 was C$151,309 ($11), up 2 percent from a year earlier.
4. Why is the U.S. stressed out over dairy?
Americans are drinking less milk: Total consumption has tumbled for six straight years and is forecast to drop again in 2017, according to the U.S. Department of Agriculture. Meanwhile, growing demand for butter and cream has resulted in excess supplies of skim milk that are left over when butterfat is removed. There's so much extra skim milk that some processors have dumped it into holes used for livestock manure. Farmers across the globe are struggling with low prices and excess supply. Benchmark Class III milk futures, a type used in cheesemaking, declined 12 percent in the first four months of 2017. Cheese futures tumbled 14 percent on the CME during the same period.
5. Can't the U.S. just produce less milk?
Better technology has increased milk output per cow, and government subsidies meant to avert price fluctuations have encouraged farmers to keep churning out more milk. The U.S. has a margin protection program that compensates dairy farmers when falling prices or rising feed prices squeeze margins. The program paid out $124 million last year, according to the Congressional Budget Office. The government also announced it would buy 11 million pounds, or about $20 million, of cheese stockpiles in a move to eat away at excess supplies.
6. What's the impact on trade?
In 2016, Canada imported C$557 million ($445 million) in dairy products from the U.S., while just C$113 million in milk products crossed the border in the opposite direction, equal to a trade deficit of about C$445 million, Canadian government data show.
7. Could this be addressed in Nafta talks?
While Canada's dairy industry wasn't part of the North American Free Trade Agreement, the U.S. is proposing to effectively phase out Canada's supply-managed system over 10 years and give the U.S. a greater share of the country's dairy and poultry markets. Canadian negotiators have rejected the proposal.
8. Is this just a Canada-U.S. fight?
The dairy industries in Australia, the European Union, Mexico and New Zealand have also asked government authorities to initiate a dispute through the World Trade Organization to challenge Canada's new pricing formula. They argue more ultra-filtered milk and other similar products from Canada, including skim milk powder, will leak onto the world market and depress prices. Between January and March, Canada shipped 9.3 million kilograms of skim milk powder worldwide, up 300 percent from the same time period a year earlier, government data show. Canadian-sourced skim milk powder products are now undercutting global prices by about $200 a metric ton in Mexico and Southeast Asia, according to The Milkweed, an industry publication.
The Reference Shelf

— With assistance by Megan Durisin, and Lydia Mulvany
Before it's here, it's on the Bloomberg Terminal.
LEARN MORE