Trump's Budget Seeks Fraction of U.S.-Mexico Border-Wall Cost
By
Budget request of $1.6 billion is smaller than cost estimate

Request recognizes opposition from Republicans, Democrats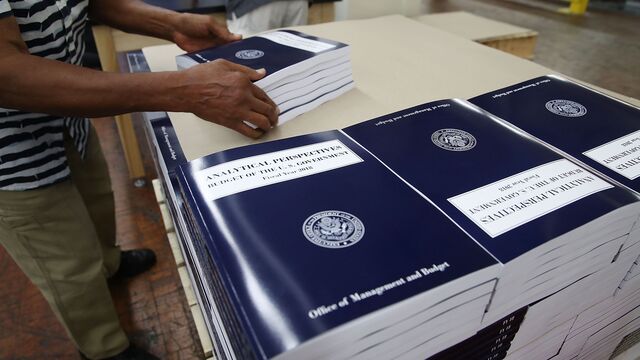 Republicans and Democrats welcomed what they see as a scaled-back vision of one of President Donald Trump's signature campaign promises: a "big, beautiful wall" on the 1,933-mile U.S.-Mexico border.
Trump's first full-year budget released Tuesday provides a $1.6 billion down payment for new and replacement sections of a wall. The president has estimated that completing the barrier would cost $8 billion to $12 billion, with many experts saying the actual cost would be far higher.
The Trump administration says the wall remains a presidential priority to keep undocumented immigrants out of the U.S. During the campaign, Trump said that Mexico would pay the bill, which that country has refused to do.
Representative Mark Meadows, a North Carolina Republican and chairman of the conservative House Freedom Caucus, called the fiscal year 2018 funding request a "pragmatic decision" by a White House that knows lawmakers -- particularly in the Senate -- would balk at paying the full cost.
"Asking for $12 billion in a budget for a border wall is not going to be met with great receptivity in the Senate," Meadows said.
Graphic: Here's What We Know About Trump's Mexico Wall
President's 'Awakening'
Democrat Tom Carper of Delaware, a member of the Senate Homeland Security panel, said
the president may be "awakening" to the idea that Congress controls the purse strings and that some Democratic support will be needed for his ideas. There's bipartisan consensus for securing the border by using more fencing, technology to monitor illegal crossings and additional border patrol agents, he said.
"There are some places along the U.S.-Mexico border where a wall makes some sense," Carper said. "Most places it does not. And we'll take a look and see what they have in mind."
The $1.6 billion is included in Trump's request of $2.6 billion in new border infrastructure and immigration enforcement resources in the fiscal year beginning Oct. 1.
That includes $300 million to recruit and hire more immigration enforcement agents; $239 million for aircraft and other "aviation assets" to track border crossings; $202 million for equipment like radios, weapons and computers; and $197 million for radars, sensors and other surveillance technology.
The $1.6 billion for border wall construction and replacement would let the Border Patrol decide the best locations. The request would cover 32 miles of border wall construction, 28 miles of levee wall in the Rio Grande Valley, and 14 miles of a new border wall system to replace fencing south of San Diego, according to Department of Homeland Security documents.
'Dead Serious'
White House Budget Director Mick Mulvaney said Tuesday that Trump stands by his campaign promise for the wall.
"We are absolutely dead serious about the wall," Mulvaney told reporters. The administration is pleased with border-security funds in this month's 2017 spending bill and will "press on" to bolster resources at the border with Mexico, he said.
Still, Democrats and most Republicans remain opposed to the physical barrier advanced by Trump.
"I thought the Mexicans were going to fund it," Representative Fred Upton, a Michigan Republican said when asked about the budget request. "We need border security. I'm not sure we need to spend billions for a physical wall."
Representative Louie Gohmert, a Texas Republican and member of the Freedom Caucus, said he's disappointed Trump didn't ask for more funding. He said he's concerned that too many of Trump's campaign promises aren't being kept.
"We're not moving forward with the things we said we'd do," he said.
Before it's here, it's on the Bloomberg Terminal.
LEARN MORE