Duterte Puts Mindanao Under Martial Law on Militant Clashes
By and
Philippine president cuts short official visit to Russia

Islamic State-linked group occupied city hall, burned church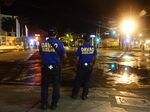 President Rodrigo Duterte cut short a trip to Russia, having put Mindanao island in the southern Philippines under martial law after renewed clashes between government troops and militants linked to Islamic State.
It's the first imposition of martial law in the restive Muslim region since 2009 and will be in place for 60 days. Duterte told Russian President Vladimir Putin on Tuesday that "ISIS occupied a province and there is still fighting going on."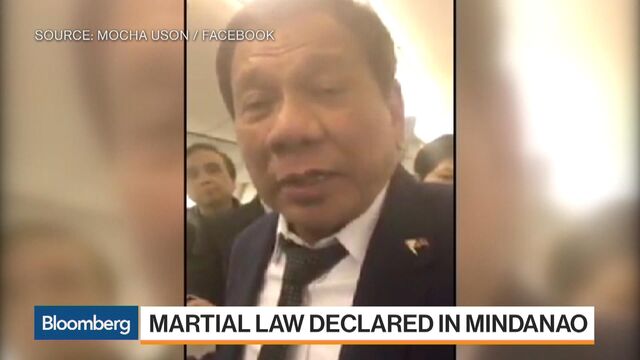 At least three government troops were killed and a dozen wounded in the city of Marawi, where militants led by a group known as Maute roamed the streets, burned a church and occupied official buildings, Defense Secretary Delfin Lorenzana said at a briefing in Moscow.
QuickTake Philippines' Firebrand
Martial law would likely include the setting up of checkpoints, the imposition of curfews and suspension of any writ of habeas corpus, Lorenzana was quoted by local media as saying.
Duterte had frequently raised the prospect of martial law amid outbursts of violence in Mindanao. The region is home to 11 of the country's 20 poorest provinces and has seen four decades of Islamic insurgency that has led to the deaths of about 200,000 people.
Speaking in a video posted on Facebook by a communications official, Duterte said martial law would be "harsh," in line with the actions of late dictator Ferdinand Marcos, who placed the entire nation under military rule for almost a decade from 1972.

"We should be supportive at this point of what the government will do," said Vice President Leni Robredo, who is from a different party to Duterte, at a televised briefing in Manila. "We're not fighting each other here, our enemy is terrorism."
Congressional Report
Mindanao has long been viewed as having economic potential that's failed to be unlocked because of the violence. It has vast agricultural lands and mineral deposits worth $300 billion from nickel to copper, but has suffered periodic power outages because of its aging power plants and hydroelectric facilities that can be crippled by droughts.
Under the Philippine constitution, Duterte will have to submit a report to Congress within 48 hours of declaring martial law. Congress can vote to revoke that order while the Supreme Court may review the basis of its declaration.
Duterte was originally scheduled to stay in Russia until Friday. He said in his meeting with Putin that one reason he'd gone there was to buy weapons, and made reference to arms sales from the U.S. being canceled.

The State Department in November halted the sale of 26,000 assault rifles to the Philippines' national police, as U.S. lawmakers questioned Duterte's human rights record given his deadly war on drugs that has seen thousands of suspected dealers killed.
Limited Impact
"Declaration of martial law in Mindanao is I think an overkill with a declaration of state of emergency as more appropriate," said Joey Cuyegkeng, a Manila-based senior economist at ING Groep NV. "The declaration implies that government has lost control of the situation in Mindanao when in fact the incident is isolated."
With the clashes largely confined to Marawi City, Cuyegkeng said the impact on financial markets was "likely to be limited and calm likely to return after the initial reaction."
— With assistance by Clarissa Batino, Ilya Arkhipov, Ditas B Lopez, Cecilia Yap, Hannah Dormido, and Norman P Aquino
Before it's here, it's on the Bloomberg Terminal.
LEARN MORE