AutoZone Joins Retailers Stifled by U.S. Tax Refund Delays
By
Profit and sales miss estimates on slow start to third quarter

Wal-Mart, Foot Locker also cited Americans waiting on refunds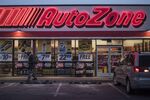 AutoZone Inc. reported profit and sales that missed analyst estimates as the seller of car replacement parts joined a chorus of retailers saying U.S. tax refund delays squelched demand early this year.
Net income excluding some items was $11.44 per share during the third quarter ended May 6, trailing the low end of 25 analysts' estimates in a Bloomberg survey. Sales for stores open at least one year declined 0.8 percent, also missing projections.
AutoZone joins retailers including Wal-Mart Stores Inc. and Foot Locker Inc. in saying customers curbed spending while waiting on tax refunds. Legislation passed in 2015 aimed at preventing fraud may have postponed funds being remitted to 25 million to 30 million U.S. households this year, Goldman Sachs Group Inc. economists wrote in February.
"For whatever reason, we don't quite understand, those refund dollars never seemed to show up," Chief Executive Officer Bill Rhodes said on a call with analysts. "It has been such a big driver of industry sales, and it just went away."

Capital expenditures at AutoZone's "mega hub" stores and wage increases fueled by low unemployment also pushed up costs, while a second consecutive mild winter hurt demand for some products, Rhodes said.
"What we have experienced over a two-year period of time in the Northeast, Midwestern and mid-Atlantic is alarming," he said. "It has to do with what's going on with the weather pattern; we can see it in specific categories that are very related to snow, ice and potholes."
Shares of Memphis, Tennessee-based AutoZone plunged as much as 9.4 percent to $597.45 as of 2:10 p.m. in New York, the biggest intraday drop since November 2008. The stock fell 16 percent this year through the close Monday, trailing the 6.9 percent gain in the S&P 500 Index.
Other auto parts and repair chains also declined, including Advance Auto Parts Inc., O'Reilly Automotive Inc. and Monro Muffler Brake Inc.
"While the sales slowdown in the industry in February and March was well publicized, it seems the company was in a bigger hole than we had anticipated," Scot Ciccarelli, an analyst with RBC Capital Markets LLC, wrote in a report Tuesday. "Sales did pick up in April and early May, but not enough to make up for the early quarter shortfall."
Before it's here, it's on the Bloomberg Terminal.
LEARN MORE