Corruption in Asia May Be Getting Worse: EY Survey
By
Ethical standards not improving, EY Asia-Pacific survey shows

Millennials more capable of justifying some behaviors, EY says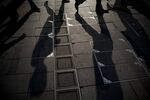 Just as China embarks on a massive Silk Road development funding initiative, a survey of business practices suggests corruption in Asia is only getting worse, adding potential potholes to new deals.
Despite anti-graft initiatives under way from China to India, the survey by EY -- formerly known as Ernst & Young -- found that "ethical standards are not improving." Some 63 percent of respondents said that bribery or corrupt practices "happen widely" in their country, up from 60 percent in 2015. And 35 percent cited bribery as "common practice" to win contracts in their industry or sector, up from 31 percent in the 2015 survey.
"Compliance policies may be in place but, under pressure to deliver growth, some senior managers are ignoring unethical actions to achieve corporate targets," Chris Fordham, the EY Asia Pacific leader for fraud investigation and dispute services, wrote in a report. "To detect unethical behavior with fewer resources, companies need to harness technology including, forensic data analytics."
Read more here about China's Silk Road vision and political challenges in the endeavor.
Perhaps most alarming, the survey suggested that the up-and-coming generation may have looser ethics than veteran staff. The poll of 1,698 employees at large companies in 14 territories in the Asia-Pacific region was taken between November and February. EY said 39 percent were aged between 25 and 34.
"More than any other age group, millennials stood out as feeling justified in participating in a variety of ethically questionable behaviors," EY said in a statement.
Among the findings, the survey indicated Asia-Pacific millennials are:
More "inclined to justify offering cash payments to win or retain business" at 38 percent of respondents versus 28 percent for all other age groups
More "inclined to justify offering entertainment" to win deals to help a business survive, at 46 percent versus 33 percent. And to give personal gifts for the same purpose: 43 percent versus 31 percent
42 percent of millennials thought it could be justified to "extend monthly reporting periods to meet financial targets," against 31 percent for others
"Millennials feel more capable of justifying some of the unethical behaviors that we surveyed, and yet are more likely to leave an organization that's involved in a fraud, bribery, corruption scandal," Fordham told reporters in Hong Kong Tuesday. He said managers need to spend more time ensuring new workers understand "the need for compliant behavior."
Before it's here, it's on the Bloomberg Terminal.
LEARN MORE