Your Evening Briefing
Here are today's top stories for Europe.
Bloomberg News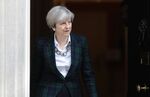 The evening briefing will soon be available in your inbox every day. Sign up here.
Donald Trump took the first public flight from Saudi Arabia to Israel, Theresa May made a U-turn in the U.K. general election campaign, and OPEC ministers are figuring out their next steps. Here's what happened on Monday.
What's next for the peace process? President Trump landed in Israel on Monday on a groundbreaking direct flight from Saudi Arabia.  The visit is expected to finally offer insight into the administration's plans for the peace process between Israel and the Palestinians. The president suggested in a meeting that there was an opportunity for Israel to strengthen ties to countries in the Gulf. There's a "growing realization among your Arab neighbors that they have common cause with you in the threat posed by Iran," Trump told Israeli President Reuven Rivlin in Jerusalem.
"We need to settle the accounts." European Union ministers met in Brussels on Monday, where they approved a final Brexit negotiating position, reiterating their hard line on the price the U.K. will have to pay to settle up its financial commitments to the bloc. The meeting happened just a day after Britain's Brexit secretary threatened to walk away from the talks unless the bloc dropped its high financial demands.
"The lady's not for turning." The phrase, coined by Margaret Thatcher when she refused to back down to the opposition in 1980, can't be applied to Britain's second female Prime Minister. Theresa May altered one of her key manifesto proposals by saying there would be a limit to costs for certain kinds of senior health care, such as in-home care for the elderly. Newspapers described the change as a U-turn, but May said she simply hadn't gone into detail in her original manifesto. Regardless, the latest revision of her stated policy proposals was seen as a blow to her promise of "strong and stable" leadership.
Tesla's got competition. German Chancellor Angela Merkel is set to break ground on Monday at a 500 million euro ($543 million) plant that will assemble lithium-ion energy-storage units for Daimler AG. The facility is an example of the push by European carmakers and power companies into energy storage and opens the way for a quicker shift toward green power.
Reeling from the oil slump.  Oil-producing nations agreed last year to limit production in an attempt to prop up prices in a world awash with oil. It hasn't really worked. On Thursday, OPEC ministers and their allies will meet in Vienna to decide whether to renew the policy. Here's where each country stands.
Building big projects is always hard in France. But EuropaCity, a 3.1 billion euro ($3.4 billion) mega-mall planned for outside Paris, has been held up for more than a decade. The complex is being developed by Chinese grocery giant Auchan Holding and Chinese billionaire Wang Jianlin's Dalian Wanda Group. It faces opposition from local mayors, environmental groups, farmers, and businesses. The question now is whether pro-business President Emmanuel Macron can make EuropaCity a reality. 
China's 1.4 billion people are building up an appetite. It's changing the way the world grows and sells food. A diet that is becoming more like the average American's means companies are scouring the planet for everything from bacon to bananas. Ballooning populations elsewhere will need more to eat, too. China's answer? An agricultural revolution that may be every bit as influential as the industrial transformation that rewrote global trade.
Compiled by Siraj Datoo and Leila Taha
Before it's here, it's on the Bloomberg Terminal.
LEARN MORE